Impinj Reaches Milestone: Ships Two-Millionth RAIN RFID Connectivity Device
Impinj today announced we have shipped two million connectivity devices, a milestone that validates our vision of digital life for everyday items.
Today we announced the shipment of our two-millionth connectivity device, a milestone that validates our vision of digital life for everyday items. Impinj connectivity devices include RAIN RFID readers, gateways, reader chips, and modules that wirelessly connect everyday items to business and consumer IoT applications—enabling organizations to analyze and use data about those items to improve efficiencies, increase sales, and delight customers.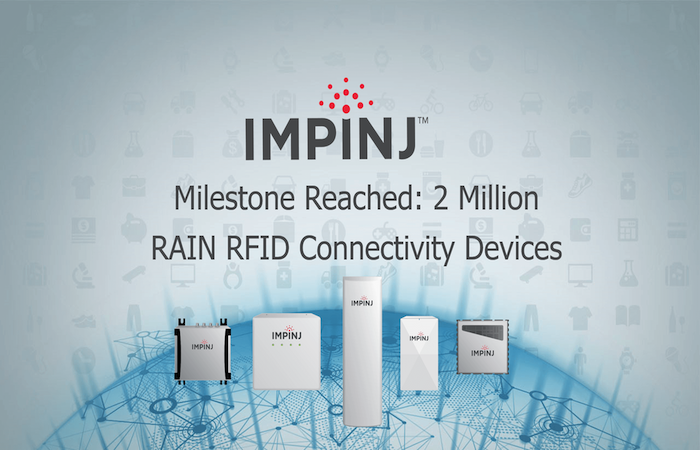 "We continue to see RAIN RFID as the technology of choice as businesses embrace the IoT and digital transformation," said Chris Diorio, Impinj founder and CEO. "The performance and ease-of-use of our connectivity devices have enabled new market opportunities and delivered actionable insights to businesses and consumers globally."
New and expanded markets are driving Impinj connectivity device growth in increasing numbers:
Supply Chain & Logistics companies optimize operations, increase efficiency, and reduce cost.
Retailers improve inventory visibility, reduce out-of-stocks, enable omnichannel fulfillment, enhance shopping experiences, and prevent loss.
Air Transportation operators improve baggage handling accuracy and efficiency.
Healthcare providers automate asset and inventory management, improve process flow, increase charge capture, and improve patient experience.
---
Article tagged as:
---
---
Wednesday, October 10, 2018
Sign Up for the latest news
Looking for more content? We've got you covered
Learn more about Impinj and RAIN RFID in our resource library
Visit Library
Get the latest industry happenings delivered straight to your inbox