Impinj R700 Reader Honored with Design Award Recognition
The Impinj R700 reader has the best receive sensitivity, fastest network connectivity, and powerful edge processing. Now it can add 'notable design' to the list.
We're pleased to share that the Impinj R700 RAIN RFID reader is receiving recognition—not just for its industry leading performance, but also for notable creative design.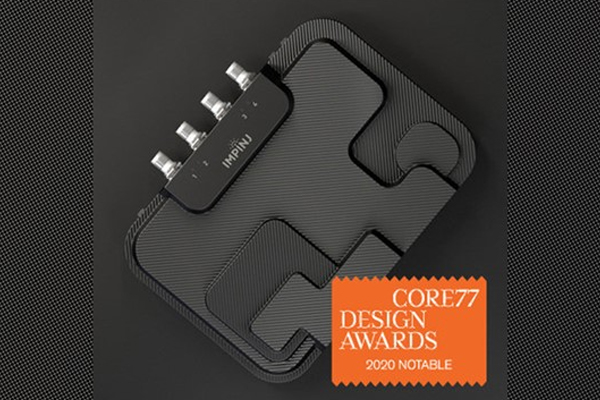 Among thousands of entries, the Impinj R700 reader is being recognized for "...thoughtful design, outstanding insight, creativity, intent, and execution" in the 2020 Core77 Design Awards. Core 77 is an online gathering place and design resource, catering to a global audience of industrial designers. Dedicated to the practice and production of excellent industrial design, their awards recognize outstanding achievements in utility, insight, and creativity. They recognized the Impinj R700 reader in the category of Commercial Equipment.
---
The R700 stands out among its competition by considering every aspect of the user experience and environmental context in a product landscape that is often overlooked. R700 brings a level of refinement and consideration that is not often seen in this industry due to strict functional requirements.
---
We congratulate Pensar, our design partner, for this well-deserved recognition. Their insightful, dynamic design both acknowledges the needs of the present while allowing for future adaptation and responses as the product line evolves. There is an opportunity for the public to vote for the Community Choice Award winner—so we need your help! Between now and July 6, 2020 anyone can vote for their favorite design on the Core77 website.
Make your voice heard! Vote for the Impinj R700 reader for the Community Choice Award here.
>>Learn more about the Impinj R700 reader
---
Article tagged as:
---
---
Thursday, July 2, 2020
Sign Up for the latest news
Looking for more content? We've got you covered
Learn more about Impinj and RAIN RFID in our resource library
Visit Library
Get the latest industry happenings delivered straight to your inbox