Impinj R700 RAIN RFID Reader – General Availability Update
Previously available only to early access partners, the industry-leading Impinj R700 is now ready for your high performance, enterprise-grade IoT solutions.
Today, the Impinj R700 RAIN RFID reader, with industry-leading performance, is generally available globally. Included in today's release is a new reader model with flexible support for global frequency bands, including FCC. By leveraging today's Impinj R700 release, Impinj partners can minimize complexity and maximize efficiency of deploying multi-national enterprise RAIN solutions.
IoT Edge Device Simplifies RAIN Deployments
Since it was first announced in February 2020, the Impinj R700 has been tested and deployed by Impinj partners around the world. Their early use has validated the importance of the increased reader performance and faster read times that the Impinj R700 provides. With industry-leading performance, enterprise-grade reliability and security, and support for next-gen RAIN tags, the Impinj R700 reader is designed to simplify RAIN deployments for global IoT solutions. Plus, when a partner combines Impinj R700 readers with Impinj M700 series tag chips, the resulting solution can read the most tagged items per second while finding only the tags you want.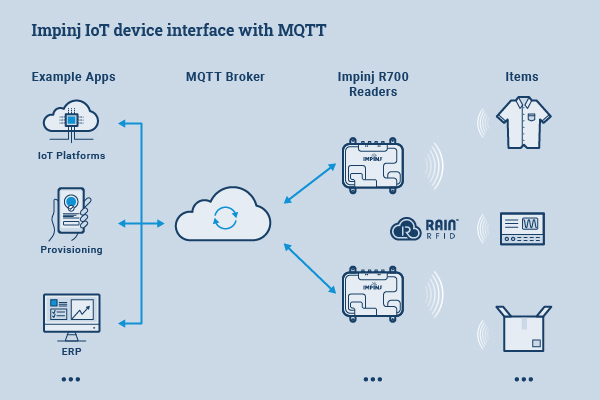 Today's release includes new developer tools to speed the time-to-solution for Impinj partners and end-customers. Even developers who are new to RFID can easily build and deploy customized solutions by using the Impinj IoT device interface. The Impinj IoT interface includes a reader configuration REST API and a web UI that each empowers IoT developers to easily connect applications to configure, control, and consume RAIN data. With native support for industry-standard data formats and protocols, such as MQTT, the Impinj IoT interface makes it easier to scale while quickly designing solutions that will integrate with IoT platforms.
The Impinj R700 RAIN RFID reader is available in two models – the ETSI reader model for 32 EU countries which includes support for both 865-868 MHz and 915-921 MHz frequency bands, and a global reader model that includes support for USA (902 – 928 MHz) and countries that utilize parts of this band. To order an Impinj R700 reader, contact your Impinj sales representative or contact us online.
---
Article tagged as:
---
---
Thursday, October 22, 2020
Sign Up for the latest news
Looking for more content? We've got you covered
Learn more about Impinj and RAIN RFID in our resource library
Visit Library
Get the latest industry happenings delivered straight to your inbox