RAIN RFID in the Home: Expanding the IoT from Enterprise to Consumer
We envision a future where consumer goods communicate via RAIN RFID to help our everyday lives, building brand loyalty and satisfaction along the way.
Carl Brasek, vice president for global device OEM sales at Impinj, recently wrote a blog post for Arm.com in which he explores the changes RAIN RFID can bring to business intelligence and the ways consumers interact with their purchases. Here, he revisits some of those observations.
Connecting everything to the Internet of All Things
Imagine this: You buy a stylish new twill shirt. You notice the care label says, "Connected by RAIN RFID." Why would a retailer call this out? Why has the retailer invited you to download their app to "bring our brand home"?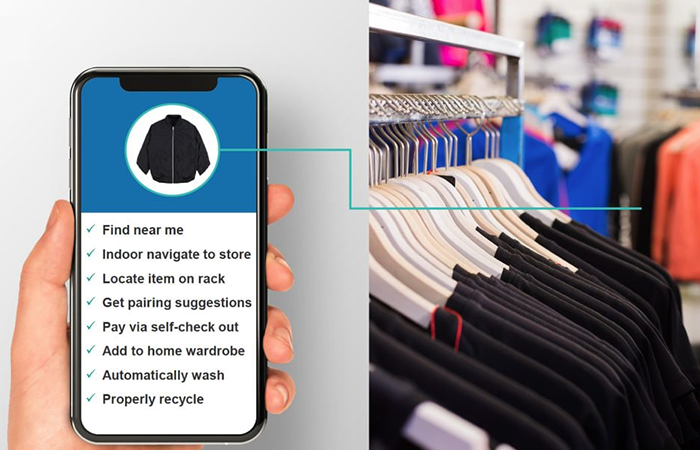 When you get home, you spot a tiny RAIN RFID tag seamlessly woven into the shirt collar. You open the app on your smartphone and, suddenly, your shirt starts talking to you — digitally. Through the app, it says, "Wash me now," and, "Let's get more acquainted later when you hang me in your wardrobe." Wow, a talking shirt!
You throw this new "smart shirt" into your smart washing machine, which digitally reads the RAIN RFID tag in the label and automatically configures the correct wash setting for the shirt. Meanwhile, you can't figure out what pants to wear later to La Chemise French Bistro. What will go with your new shirt? You open the app's virtual wardrobe assistant. It scans your closet and detects khaki pants hanging on the bottom rack. A perfect pairing!
Fast forward a month. You open your app and it shows that you've worn the shirt 12 times in the past four weeks and washed it six times (no one's judging). Four years later, you've worn your favorite shirt so much you've become known as Twill Tony. It's definitely time to retire it. You open your app and arrange for the shirt to be properly recycled when you go back to the retailer. Your app automatically gives you store credit for recycling the shirt and suggests a new button-down Oxford as your new stylish shirt.
[ Want to read more content like this? Subscribe to the Impinj blog. ]
But what became of your old favorite twill shirt? You wore it so many times, the label is worn and unreadable. No problem — the retailer reads the instructions from your embedded RAIN RFID label and properly recycles it. Meanwhile, the retailer has digitally transferred to you ownership of your Oxford shirt, guaranteeing its brand authenticity. And because you designated it in the app as your new go-to shirt, the app is already selecting clothes from your wardrobe that pair with it. Look out, La Chemise!
And yes, once friends start calling you Oxford Oscar, it will be time to start the cycle all over again.
RAIN RFID is evolving, and the world is changing with it
In today's competitive retail market, businesses need every advantage to manage their inventory and drive customer engagement. In the example we imagined above, retailers and brands find a way to handle goods while engaging more closely with customers, even past the point of purchase.
For years, the world of retail has been closed off to most post-purchase interactions. That has changed with the rise of RAIN RFID. Today, we find RAIN RFID all over the world — in aviation, entertainment, healthcare, the auto industry, supply chain and logistics — and in retail, where its uses range from asset and inventory management to loss prevention and omnichannel fulfillment.
While RAIN RFID is a versatile tool in retail, innovations happen almost daily, revolutionizing how we connect with things. Inexpensive, wireless, battery-free RAIN RFID tags bring connectivity to everyday things.
RAIN RFID readers can wirelessly scan hundreds of RAIN RFID tags per second, without direct line-of-sight — they can read tags through sealed cartons and in stacks up to 10 meters away. RAIN RFID solutions collect and store information about these tagged items, allowing businesses and consumers alike to access real-time and historical data on the items' identification, location, authenticity, and more.
RAIN RFID will expand beyond its business-to-business origins into consumers' homes, enabling devices, apps, and products to connect and interact in exciting ways. RAIN RFID can create a new kind of relationship between retailers and consumers, improving the shopping experience, enabling more advanced targeted marketing, and building greater brand loyalty.
In 2021, 29 billion RAIN RFID tag chips were sold worldwide, and that's just a fraction of what the market is poised to become. Those chips enable connected items which today represent only 0.2% of the potential. With the price of a RAIN RFID tag reaching just a few cents, many businesses are moving forward with new, connected initiatives with all sorts of use cases.
Making smart chips smarter
RAIN RFID helps businesses reach far beyond the bounds of barcodes and other connectivity tech into not just the Internet of Things (IoT), but the Internet of All Things.
We're beginning to see Impinj RAIN RFID readers or reader chips in many products like smart appliances, automobiles, tires, security systems, and mobile devices. Innovations by the world's leading semiconductor IP company, Arm Computing Technology, have demonstrated that more functionality is possible for these connected items and systems. For example, the ability to wirelessly power a battery-less RAIN RFID sensor tag that can compute a value like temperature and transmit it when read by a RAIN RFID reader.
It's not hard to imagine how Arm technology could integrate with RAIN RFID reader technology to enable digital pantries that automatically select RAIN RFID-tagged ingredients for a recipe app, or other consumer products like digital assistants, doorbells, thermostats, virtual reality devices, and smartphones. Imagine if you could connect, via these devices, to every item in your physical world. You'd never lose your reading glasses again!
We are already in the early stages of this new "Internet of All Things." Retailers like Zara, Uniqlo, and Decathlon are adding RAIN RFID tags into their products to provide their customers with better omnichannel and self-checkout experiences. Delta Air Lines uses RAIN RFID to provide travelers with real-time updates on the location of their bags. TopGolf tracks players' stats through RAIN RFID-tagged golf balls.
You can expect to see much more customer engagement at this level soon — 95% of retailers responding to a recent poll said that RAIN RFID inventory management, for example, was becoming a foundation of their digital transformation strategy. As RAIN RFID moves into our homes and lives in ways we couldn't have imagined even a few years ago, we could see an enormous digital transformation the world over.
To learn more about what is possible with RAIN RFID, you can read more about the technology and see how it is used in various industries.
---
Article tagged as:
---
---
Wednesday, July 27, 2022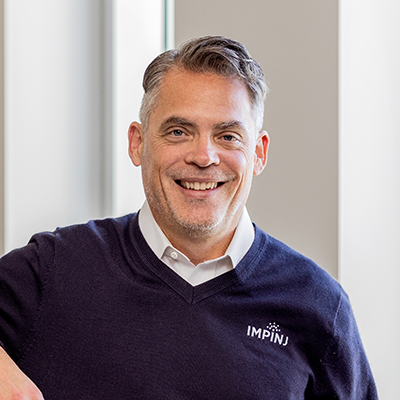 Carl Brasek
Vice President, Global Device OEM Sales
Carl Brasek oversees Impinj's initiative to drive worldwide RAIN RFID adoption across all kinds of industries.
Looking for more content? We've got you covered
Learn more about Impinj and RAIN RFID in our resource library
Visit Library
Get the latest industry happenings delivered straight to your inbox