Impinj Enhances ItemSense Capabilities and Announces New Monza RAIN RFID Tag Chip for Automotive Applications
Impinj, a leading provider of RAIN RFID solutions, today announced enhancements to its ItemSense software to ease the deployment, management and monitoring of RAIN RFID solutions. It also unveiled the Monza 4i tag chip, targeted at automotive applications.
Impinj, a leading provider of RAIN RFID solutions, today announced enhancements to its ItemSense software to ease the deployment, management and monitoring of RAIN RFID solutions. It also unveiled the Monza 4i tag chip, targeted at automotive applications.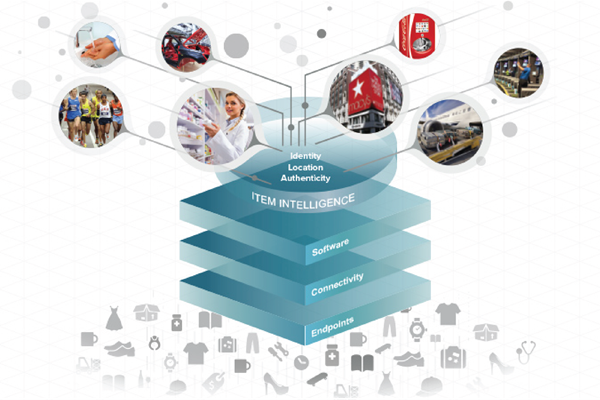 "By using the Impinj Platform, you gain the Impinj advantage – high performing products and features to enhance your RAIN RFID solution," said Chris Diorio, Co-Founder and CEO of Impinj. "Our customers know the Impinj Platform enables solutions with high performance, functionality and flexibility. Impinj was front-and-center in drafting the EPCglobal Gen2 V2 protocol and its products are not only compliant with, but take advantage of V2's capabilities and benefits. Impinj's recent Platform enhancements further ease and speed deployment, system management and health monitoring and expand Platform applicability."
Impinj ItemSense Enhancements
ItemSense software enables businesses to quickly and easily integrate ItemIntelligence, the identity, location and authenticity of everyday items, into enterprise applications. ItemSense software aggregates raw RAIN RFID data into real-time business-relevant events. ItemSense also centralizes and automates deployment, management and monitoring of RAIN RFID infrastructure including Impinj readers and gateways.
Impinj has now streamlined RAIN RFID deployment and management via a new ItemSense Management Console (IMC). With the IMC, customers can automatically discover gateways and readers on their network and auto-set device configurations and recipes to streamline system setup. In addition, Impinj launched a developer website (developer.impinj.com) featuring documentation and tools to aid integrating RAIN RFID data into solutions.
Specific ItemSense enhancements include:
Quick-Start Capabilities
Automatically discover readers and gateways
Preset reader configurations for common inventory and location scenarios
Health Monitoring and Health API
View network connectivity and set alerts if gateways or readers disconnect
Monitor reader/gateway memory utilization and process/thread operation
Centralize deployment/management of reader infrastructure and firmware updates
Location Enhancements
Partition monitored facilities into geographic regions or "zones" of any size or shape
Locate and track items within and across zones
Generate events based on item movement by distance or between zones
Developer Portal
Documentation to help users deploy and use ItemSense
Software integration support tools
Change log with recent software updates
New Monza 4i Chip Delivers Features for Automotive & Industrial Users
Impinj's new Monza 4i chip offers 256-bit EPC memory and 480-bit user memory for applications that require extended serial numbers, such as Vehicle Identification Numbers (VINs), coupled with large user memory. The large user memory supports data logging to track, monitor, time-stamp, and record item maintenance, component status and environmental conditions. Monza 4i's True3D feature allows omnidirectional readability, while its superior interference rejection ensures high performance in noisy industrial environments.
Impinj optimized Monza 4i for automotive manufacturing control and logistics:
Manufacturing Control: Provide quality checks for vehicle parts in assembly lines, with data written in every production step.
Logistics: Use logged data to verify car parts like gearboxes, bumpers, airbags and dashboards.
"Omni-ID has utilized a number of Impinj chips throughout our Passive, Active and View product lines," said Tony Kington, Chief Operating Officer of Omni-ID. "Our customers expect superior tag products with the most consistent performance in the market, no matter what the application is – the quality and unique technical attributes of Impinj chips ensure that Omni-ID meets those expectations, every time," added Kington. "We are very excited about the new industrial Monza 4i chip. The enhanced EPC memory provides us with another option for customers that have larger data storage requirements; such as customers that use the SGTIN 198 standard, allowing for an enhanced level of flexibility, including human-readable codes."
"Confidex UHF passive RFID products generally have options for both the Monza 4QT and Monza 4E chip from Impinj. Offering both chips is necessary today as our automotive and manufacturing customers often require expanded user memory to log entries at each production step while a customer managing IT assets will utilize a larger EPC memory bank for asset identification. The versatile design of the Monza 4i enables Confidex to serve a wide variety of industries with a single chip and eliminates the need to compromise one memory bank for another," said Joe Hoerl, Director North America of Confidex.
Impinj has now enabled digital life for more than 13 billion everyday items including apparel, medical supplies, automobile parts, and more; it connects items and provides ItemIntelligence so businesses can make smarter business decisions, delight customers and drive sales. IDTechEx Europe awarded Impinj "Best IoT Technology Development" for the Impinj Platform's use as a foundational technology that increases sales, streamlines logistics, and captures data for analytics.
Interested in our platform enhancements or ready to talk about your application? Contact our sales team!
---
Article tagged as:
---
---
Thursday, February 2, 2017
Sign Up for the latest news
Looking for more content? We've got you covered
Learn more about Impinj and RAIN RFID in our resource library
Visit Library
Get the latest industry happenings delivered straight to your inbox