Impinj Demos IoT Technology at Cisco Live 2018
At Cisco Live 2018, Impinj-enabled IoT demonstrations show the technology's impact on consumers. 
Cisco Live is Cisco's yearly customer and partner conference. Held in Orlando, Florida this year, the event brought together tech professionals, Cisco engineers and executives, and innovative business leaders to explore cutting edge technology.
This year Impinj had the opportunity to be a part of several exciting RAIN RFID enabled IoT demonstrations.
Smart fridges take inventory of contents with RAIN RFID
Our smart fridges at Cisco Live gave a simple solution to an age-old question in retail: What's selling in this store, and when?
The demo, located in the Unlock the Power of Data Zone, achieved this by tracking tagged water bottles as they are moved into, out of, and between Impinj-enabled smart fridges. Booth guests could then see in real-time the status and inventory of the bottles, which is something that could critically impact business.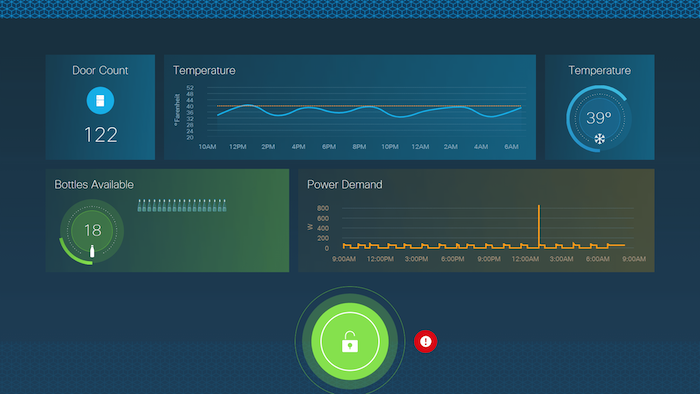 Imagine, for instance, if restaurateurs or grocers could take exact count of their inventory all the time. Then they could tell you with certainty what was available for purchase, ensuring you don't drive all the way to the store only to find they're out of your favorite flavor of ice cream.
RAIN RFID enabled kiosks take smart fridge application one step further
We expanded the reach of this demo by adding Impinj readers into several kiosks located around the smart fridges. This allowed us to track when tagged water bottles were placed on these kiosks, and how long they stayed there. Data collected by these readers is pushed into a heat map for easy consumption, as shown in the image below.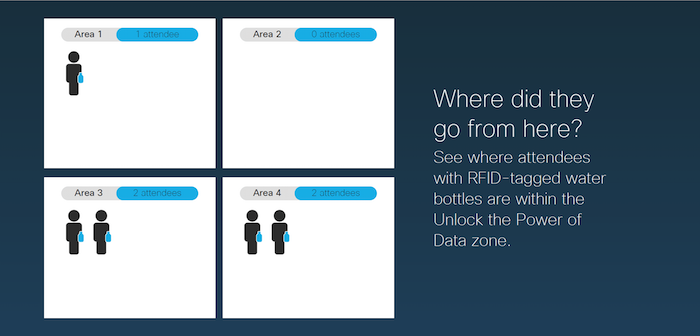 This demonstration shows how the previous smart fridge demo could be expanded for greater commercial application. For instance, the kiosks could measure how long temperature sensitive items, like dairy or fish, have been out. For restaurants, or even coffee shops, this type of knowledge can be critical to consumer safety.
Tracking toys with RAIN RFID
Our second scenario was less food-focused. We built a model toy store (the "Toy Box") and filled it with RAIN RFID tagged items to demonstrate how the Impinj platform can help stores keep track of their inventory.
Impinj xSpan readers kept tabs on toys as they moved around the demo space, providing a real-time stream of quantity and location data. In a real-world application, this type of item-level data not only reduces the time employees spend on periodic inventory counts, but further enables them to more efficiently help customers find what they're looking for.
Item-level intelligence in ItemSense makes data consumption easy and accessible
In all of these demos, the data is sent to Impinj ItemSense software, which is then pushed into Cisco Kinetic and other circumstance-specific applications. This complete platform integration made it simple for viewers to understand the results of the demonstrations, as shown in the images above.
The demos we showcased at Cisco Live 2018 let viewers go behind the scenes to explore the ways Impinj enables the Internet of Things solutions to simplify everyday processes, and helps businesses truly unlock the power of data.
---
Article tagged as:
---
---
Thursday, June 14, 2018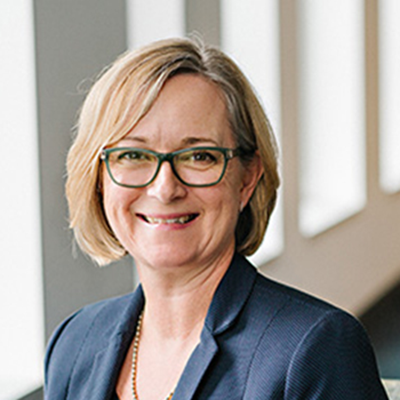 Gaylene Meyer
Impinj Vice President of Global Marketing and Communications
Gaylene Meyer leads a team focused on delivering world-class marketing and communications that engage partners and customers worldwide.
Sign Up for the latest news
Looking for more content? We've got you covered
Learn more about Impinj and RAIN RFID in our resource library
Visit Library
Get the latest industry happenings delivered straight to your inbox