How Tracking Linens with RAIN RFID Keeps Hotels and Hospitals Cleaner
Customers who implement RAIN RFID solutions into their textile laundering save time and improve efficiency in their operations. The result? Happier customers and better hygiene.
It would be hard to run a hospital without patient gowns, a restaurant without tablecloths, or a hotel without sheets. Linens, uniforms, and other textiles are essential investments for companies across many industries, including healthcare, food services, and hospitality.
But replacing high-quality linens can get expensive, and storing enough extras and replacements takes up valuable space. If a third party takes linens off-site for cleaning and replenishing, things can get more complicated and assets can go missing.
RAIN RFID can relieve these pain points. By implementing RAIN RFID solutions to help manage linens and textiles, companies can save time and labor, reduce shrinkage, gain visibility into laundry cycles, and improve efficiency in their operations.
The result? Lower costs, better hygiene, and happier customers.
Track assets better with RAIN RFID
RAIN RFID tags can be attached to textile assets — either sewn into fabric labels or attached to a label. Impinj tag chips are low-cost and durable enough to survive the heaviest of laundering. Once a tag chip is attached to an asset, RAIN RFID readers can track that asset as it is moved, stored, cleaned, and used.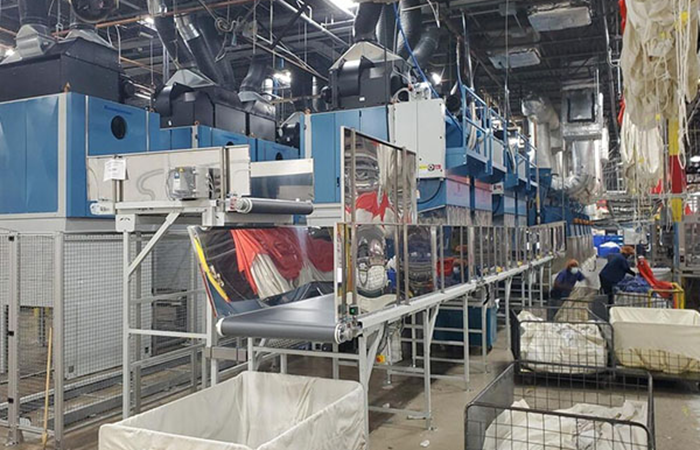 This real-time data can be connected to existing enterprise systems. And with such revealing insights, companies can improve the way they utilize assets and reduce overall costs. But there are other benefits, as well.
Read how to handle without handling
Who wants to touch soiled laundry to find the cleaning instructions? With RAIN RFID, data on the cleaning method for a particular linen can be encoded directly onto its RAIN RFID tag and read with a RAIN RFID reader — no hands necessary.
This hands-free benefit gains importance in a hospital, where preventing transmission and cross-contamination is key to patient and staff safety.
United Hospital Services uses a RAIN RFID solution to track and manage isolation gowns, ensuring good hygiene and keeping people safer. By tracking the number of uses and storing cleaning instructions on tag chips, their solution from Positek makes it easier to automate the sorting, tracking, and counting of gowns.
Ensure delivery to the right customer
If linen is cleaned off-site, it can be challenging to ensure freshly laundered items end up at the right location. After all, linens, towels, and robes may look alike from one client to another. RAIN RFID helps identify the origins of tagged laundry and ensure linens are sent to the correct clients.
Elis serves over 400,000 clients worldwide, making it one of the largest textile rental and hygiene service providers in the world. By choosing a RAIN RFID solution from Impinj and Chainway, Elis was able to track the location of every asset throughout its cleaning process.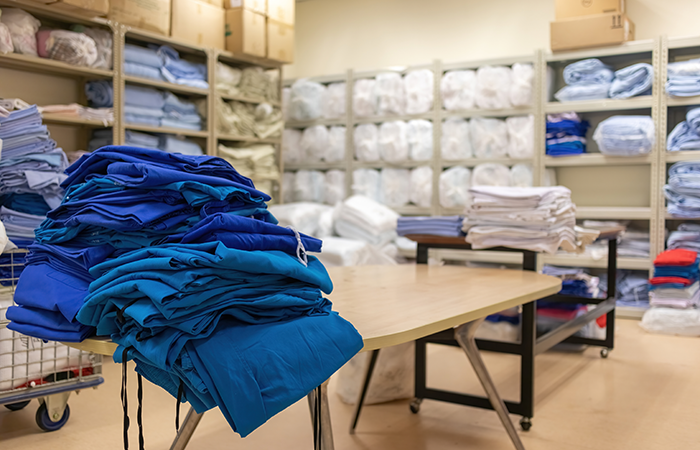 With fewer lost items, faster workflows, and more accurate estimates for when linens will be ready, Elis has an easier time keeping its clients happier. As a bonus, tracking each asset through its life cycle means Elis can better predict the service life of each linen, giving employees a heads-up when it's time to replace them.
RAIN RFID lightens the load
Sorting and counting laundry by hand is both time-consuming and inaccurate. RAIN RFID readers can read hundreds of tags per second so laundry can be identified and tracked in bulk, automating the process and — once again — making it hands-free.
Impinj partner Datamars created a solution that simplifies the implementation of RAIN RFID systems. Datamars' Cloudburst software allows laundry companies to take advantage of the benefits of RAIN RFID without the headache of a complicated system overhaul. The Datamars solution leads to over 98% accuracy when reading tagged items in bulk, even when they're in motion.
RAIN RFID is a tried and tested solution for asset tracking, including textiles of all shapes and sizes. Customers who implement RAIN RFID solutions report time and labor savings, reduced shrinkage, better visibility into laundry cycles, and improvements in operational efficiency.
Learn more about using RAIN RFID in hospitality, healthcare, and asset management on our website.
---
Article tagged as:
---
---
Monday, December 27, 2021
Sign Up for the latest news
Looking for more content? We've got you covered
Learn more about Impinj and RAIN RFID in our resource library
Visit Library
Get the latest industry happenings delivered straight to your inbox