How RAIN RFID Prevents Retail Shrinkage & Evolves Store Security
With RAIN RFID, retailers can gain insight into loss events and switch from reactive to proactive strategies when addressing shoplifting. Here's how.
Once an unpurchased product leaves the store, it's gone. Cut your losses — that's just the reality of retail shrinkage. Right?
Well, maybe not all is lost. With loss prevention solutions powered by RAIN RFID, retailers can gain insight into loss events, learn from them, and prevent them from happening again.
With traditional Electronic Article Surveillance (EAS) systems, if an item passes a checkpoint with its security tag still attached, an alarm sounds — but the information stops there. You probably don't know which items went missing, or how they moved within the store first. Security cameras can provide clues, assuming they were pointed in the right direction, but EAS systems generally alert loss events only after the fact, with no additional insight into exactly what left the store.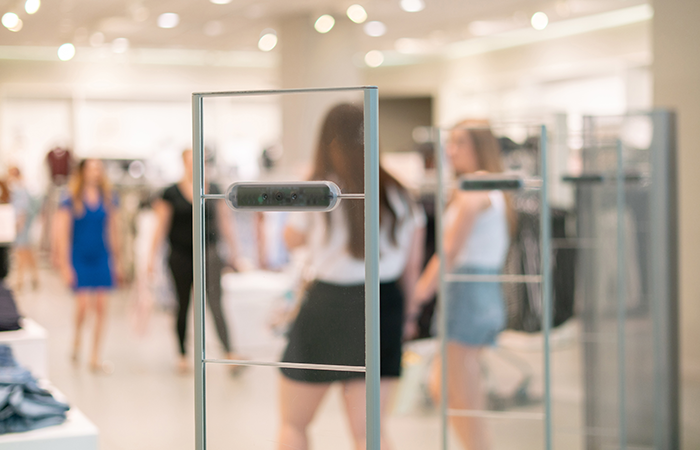 RAIN RFID changes that. When a product is tagged with an RAIN RFID tag and is tracked by RAIN RFID readers throughout the store and its exits, retailers can know exactly how many items were taken and from where, and trace where the products went (such as fitting rooms) before disappearing.
RAIN RFID tag chips can be attached to product tags, embedded in clothing labels, placed on high-value electronic items, or even incorporated into small packages for makeup. Hundreds of tagged items can be read simultaneously, without direct line-of-sight, and the data can interface with existing enterprise software.
By connecting item data with loss events, retailers can identify patterns, take preventative measures, and shift from reactive to proactive strategies in addressing shoplifting. RAIN RFID empowers retailers to prevent theft by adopting security measures that work for their store, such as moving high-theft items out of blind areas, reducing the number of targeted items on the sales floor, or increasing security in specific areas.
RAIN RFID also can complement existing security strategies, such as security cameras or EAS systems. With greater visibility into the details of loss events, retailers can pinpoint and respond quickly to new shoplifting tactics used by individual thieves or organized retail crime groups. With RAIN RFID solutions, this depth of insight stops at the door and does not interfere with customer privacy.
Preventing theft and shrinkage has long been a challenge for the retail industry. Now, with ongoing labor shortages making it even more difficult to both care for customers and provide security, proactive approaches to loss prevention are key for retailers.
To learn more about RAIN RFID's benefits in retail, including omnichannel fulfillment and automated self-checkout, download our helpful infographics on retail digital transformation.
---
Article tagged as:
---
---
Friday, January 7, 2022
Sign Up for the latest news
Looking for more content? We've got you covered
Learn more about Impinj and RAIN RFID in our resource library
Visit Library
Get the latest industry happenings delivered straight to your inbox