How RAIN RFID Can Help Retail Rebound with Improved Inventory Management
How does RAIN RFID-enabled inventory management enable seamless omnichannel operations for an improved customer experience? We dive into a Gartner report on retail digital transformation to answer.
RAIN RFID and other IoT technologies can have a significant role in helping struggling retailers recover from the COVID-19 pandemic. We previously explored three retail trends enabled by RAIN RFID according to Gartner. Below, we dive deep into Gartner's "Top Trends in Retail Digital Transformation & Innovation for 2021" report, focusing on the part that improved inventory management, enabled by RAIN RFID, can play in helping retailers recover and thrive.
Vulnerabilities and challenges exposed by COVID-19
Lack of accuracy
Despite a significant rise in e-commerce over the course of the pandemic and an already elevated consumer demand for omnichannel experiences, "18% of organizations report fulfillment accuracy rates of 95% or better," according to a recent Gartner "final mile" survey. This low rate can be attributed in part to data, location, and inventory inaccuracies.

Lack of touchless operations
According to the Gartner report, "Customers also expect retailers to offer them safe, touchless shopping experiences. These include providing multiple ways to research, purchase and consume goods, in convenient, contact-free interactions in a hygienic physical environment." Such experiences require not just contactless payments, but also touchless capabilities across all major customer processes.
Addressing the challenge with RAIN RFID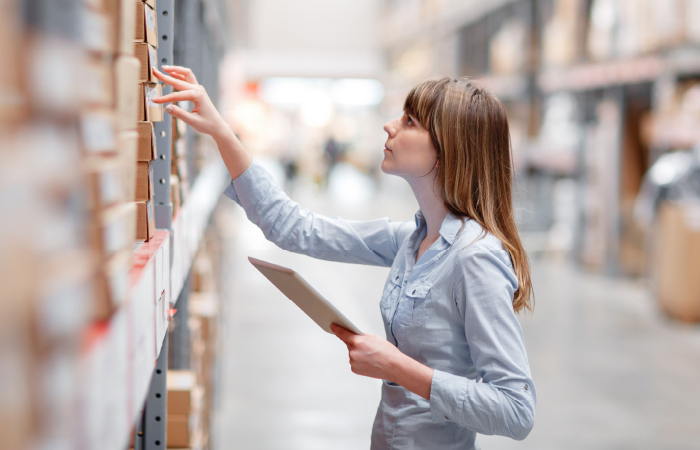 Many retailers have already identified a solution to many of these inventory management struggles: investment in digital transformation. The COVID-19 crisis made clear the importance of technology to the retail industry and, specifically, newer technological advancements that can forge a path ahead. Gartner recommends that retailers "improve management of on-hand inventory, avoid 'dead' inventory, and reduce waste by leveraging IoT technologies such as RFID and smart shelving."
How can RAIN RFID in particular help improve inventory management? Here's how the Impinj platform, using RAIN RFID, is improving inventory management today.
RAIN RFID enables faster, more accurate data for:
Real-time inventory visibility
"Customers want to be able to search, transact, acquire and consume products and services safely and easily across a retailer's entire ecosystem," Gartner's report states. "This means that retailers need strong store teams and robust technology in place to create a fluid experience for customers while simultaneously managing costs."

This kind of customer service requires a high degree of accuracy in inventory data. For example, handheld readers from DENSO WAVE—built using Impinj RAIN RFID reader chips—can reduce the time needed to conduct an accurate inventory count by 90%. Because the readers are easy to use, inventory checks can be done more frequently, leading to better accuracy and inventory visibility on the floor. The Impinj platform also enables an improved customer experience; by searching for inventory from the store floor, without returning to a dedicated terminal, an employee can find products faster and focus on the customer.


Seamless omnichannel operations
"Fulfillment execution enables excellence in fulfillment operations across the retailer's physical and digital assets through real-time analysis and reconfiguration of inventory, labor and processes," Gartner's report states. "This in turn results in optimization of inventory, enablement of unified commerce experiences and increased customer satisfaction, as well as improved profitability for the business."

Shoppers at Undiz, a French lingerie retailer, can use their smartphones to browse the entire inventory and select items before even entering a store. Once they enter, RAIN RFID readers detect their selections from the Undiz app and deliver the RAIN RFID tagged inventory from the stockroom via a capsule in a pneumatic tube. Shoppers can then try on their selections or simply pay from their phone.

Increased visibility of online and in-store inventory not only improves customer wait times and their overall experience, it also provides rich sales data, allowing employees to ensure popular items don't go out of stock.


Contactless customer experiences
Gartner defines a touchless experience as a "'safe,' physical-contact-free interaction across the customer's entire shopping process." And this experience is growing in demand.

Improving label design is one step in the direction of contactless checkout, and one successful solution is the AD TexTrace RAIN RFID label. With an interwoven textile antenna and an integrated Impinj Monza R6 series tag chip, AD TexTrace textile labels enable inventory visibility, omnichannel operations, and contactless point-of-sale systems by ensuring that every item, tagged with a RAIN RFID-enabled fabric tag at the point of manufacture, can be scanned by a RAIN RFID reader for inventory, read at the POS for an automated checkout, and can then be deactivated after purchase—all without contact from an employee.
Related reading: Three Gartner Retail Trends that Can Be Enabled by RAIN RFID
Gartner, Top Trends in Retail Digital Transformation and Innovation for 2021, Kelsie Marian, Miriam Burt, Max Hammond, Hanna Karki, Robert Hetu, Sandeep Unni, 5 February 2021.
---
Article tagged as:
---
---
Thursday, July 15, 2021
Sign Up for the latest news
Looking for more content? We've got you covered
Learn more about Impinj and RAIN RFID in our resource library
Visit Library
Get the latest industry happenings delivered straight to your inbox