How Auto Manufacturers are Leveraging RAIN RFID for Customer and Operational Gains
Automotive manufacturing has a history of driving innovation in factory automation and RAIN RFID is the latest example.
The automotive manufacturing industry is known for driving innovation and adopting new technologies as quickly as they are released. That's why major companies today are turning to RAIN RFID technology to improve operations.
Automotive companies are choosing RAIN RFID for its highly accurate read rates and for its uniquely flexible deployment. RAIN RFID tags, like the automotive specific Impinj Monza 4i, can be placed on almost any surface, making them ideal for asset tracking solutions.
Data collected by these tag chips, such as item maintenance, location, component status, and other actionable information can be organized and sent to ERPs. This lets businesses make more informed decisions about their operations, and even automate processes that ultimately deliver a competitive advantage.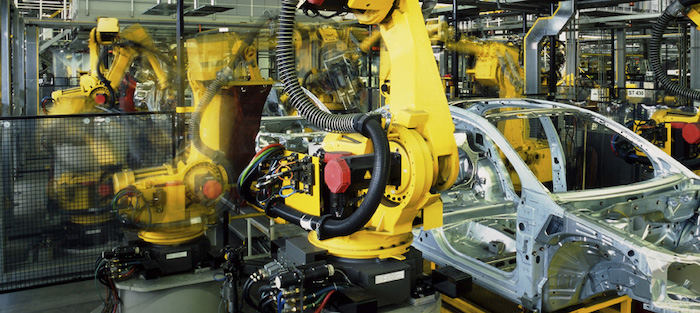 RAIN RFID drives automotive industry forward with automation
For instance, Ford Motors saw first hand how RAIN RFID could be used to ease pain points for their business customers. For those who use Ford trucks to transport tools—be it workers heading to construction sites or plumbers making house calls—Ford understood that leaving vital tools behind could seriously compromise their ability to finish a job. With an embedded RAIN RFID reader in truck beds, all tagged tools can be read by drivers to ensure that teams have what they need when they arrive at a site.
Major automotive manufacturers turn to RAIN RFID simplify manufacturing
Ford isn't the only automotive manufacturer utilizing RAIN RFID. Other OEM brands are also recognizing its ability to simplify operations, add customer value, and drive smarter manufacturing processes.
Porsche tracks prototypes with RAIN RFID
When testing prototypes, Porsche required that drivers fill out paperwork and speak with employees at the gate to exit the facility. But using a RAIN RFID enabled access solution, Porsche has eliminated this hassle and increased prototype security. Now, as vehicles approach the gates, readers capture the RAIN RFID tag attached to its windshield, recording the location and ID number. If the vehicle is approved to leave, the system permits it. The process is repeated upon reentry. Management can then see when and how long the cars were on the road, helping ensure the secrecy of their prototypes.
Volvo tracks 2 million cars through production
Using RAIN RFID, Volvo tracks cars as they are manufactured in its Belgium and China facilities. RAIN RFID tags are permanently mounted on the chassis of the car at the beginning of the manufacturing process and are used to manage the variety of custom cars made to meet customer requests. RAIN RFID uniquely identifies each vehicle and reliably tracks it through the production process, ensuring custom orders are built correctly.
Polaris uses RAIN RFID to avoid manual errors
Even with their use of AGV technology in their manufacturing processes, Polaris needed further automation to ensure the quality of their work in process. By replacing manual checks with RAIN RFID technology, they saw an increase in inspection accuracy and a decrease in equipment costs.
Honda tracks assembled vehicles with RAIN RFID
Honda uses a RAIN RFID solution to track and manage car production at their Indiana plant, which produces some 1,000 cars daily. RAIN RFID provides the automated tracking necessary for managing such large production operations, and ensuring that each individual car can be accounted for throughout the manufacturing process.
General Motors uses RAIN RFID for smart manufacturing
General Motors gave their 75-year-old New York factory a RAIN RFID upgrade to implement a "track-and-trace" system that allow machines and staff to work more intelligently together. Tags placed on bolts carry 2 kilobytes of data; down the production line, information is sent and collected to and from the bolt by RAIN RFID readers. These readers ensure parts compliance, the success of safety tests, machine accuracy, and traceability. This helps workers avoid critical mistakes and improves product safety and quality.
RAIN RFID offers flexible, powerful solutions for not only the industrial manufacturing industry, but many others as well. Learn more about what RAIN RFID can do for your business.
---
Article tagged as:
---
---
Thursday, September 20, 2018
Sign Up for the latest news
Looking for more content? We've got you covered
Learn more about Impinj and RAIN RFID in our resource library
Visit Library
Get the latest industry happenings delivered straight to your inbox