How Airlines Track Bags and Avoid Losing Baggage with RAIN RFID
Airlines like Delta are using RAIN RFID to track your bags as they're sorted, loaded onto your flight, and delivered to baggage claim. And you can follow along.
You're just settling into your window seat when you get a notification on your phone. Ding! Your bag just got loaded onto your aircraft. Now you can relax, slip on your headphones, and maybe get a little shuteye once you hit cruising altitude.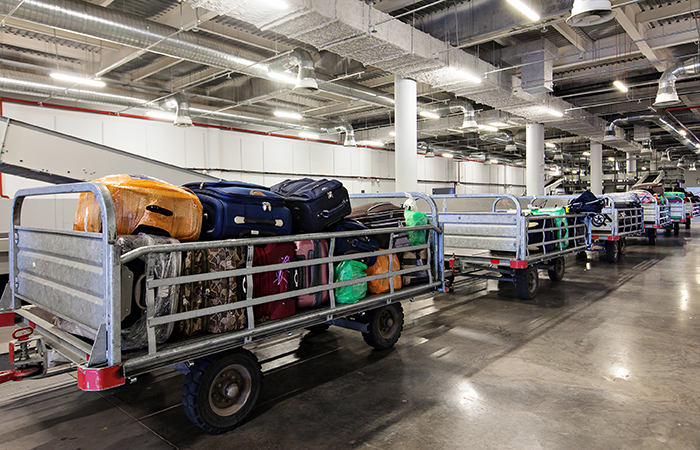 Thanks to RAIN RFID technology, many airlines and airports are able to reliably track your luggage in real-time as it zig-zags across conveyor belts, gets loaded onto your plane, and arrives at baggage claim once you reach your destination. As it all happens, you can use a mobile app to track your bag through its journey.
This kind of system is becoming the industry standard worldwide.
The International Air Transport Association (IATA), an association of 290 airlines representing more than 80% of the world's air traffic, recently committed to adopting RFID as the standard for baggage tracking. When airlines and airports use RAIN RFID, not only can you fly easier knowing where your bags are, airlines can also prevent baggage mishandling, save on the cost of lost baggage, and ensure on-time departures. Airports also can better optimize their ground operations.
It's a massive transition for an industry already hit hard by the COVID-19 pandemic. But airlines such as Delta have already adopted RAIN RFID baggage tracking technology based on the Impinj platform, as have airports like Newark International, Brussels Airport, and Hong Kong International. In China, all major airports are slated to apply RFID technology by the end of 2021.
"Quickly harnessing current technology solutions was key for survival during the pandemic, but this year's unparalleled disruption marks an opportunity to reimagine and introduce new ways of handling passengers and their baggage," states the Baggage IT Insights 2021 report from SITA, a leading air-transport communications company. "There is broad industry alignment that we must find green, sustainable, and contactless approaches that boost passenger confidence, reduce bottlenecks at airports, and enable efficient operations."
[Read our whitepaper: Solving Baggage Handling Challenges in the Modern Air Transportation Industry]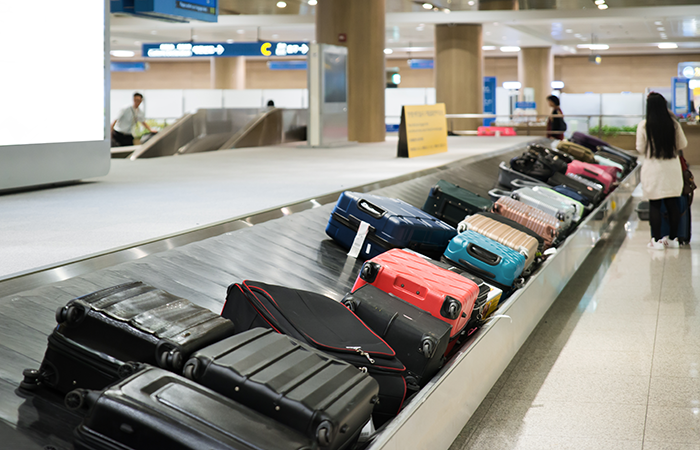 How RFID baggage tracking works
Traditionally, most airlines have used barcoding or optical character recognition to keep track of individual bags throughout their journey. But a code printed on your baggage tag must be plainly visible so that fixed and handheld readers can scan them — and scan them one at a time. This method is inefficient and prone to error, and many airlines don't have systems that provide real-time data.
Under the new standard, a RAIN RFID tag — comprising a tiny radio chip and a foil-like antenna — is embedded into each baggage label. Handheld and fixed RAIN RFID readers and gateways are installed at transition points in a bag's journey: where it is checked, loaded, unloaded, transferred, and delivered. As a tagged bag passes by, a RAIN RFID reader scans the tag and sends its identity, location, security status, and other data to the airline's system in real-time.
Hundreds of RAIN RFID tags can be read simultaneously and without direct line-of-sight, with greater than 99% accuracy. With all airlines and airports using the same standard, their systems can easily talk with each other to find misplaced baggage and reduce flight delays.
With so much real-time visibility into their baggage operations, airlines can make use of this data to improve the customer experience. When you know where your baggage is at all times, you can plan your trip more efficiently and confidently — and even if your bag does miss your flight, you aren't blindsided by a no-show at the baggage carousel.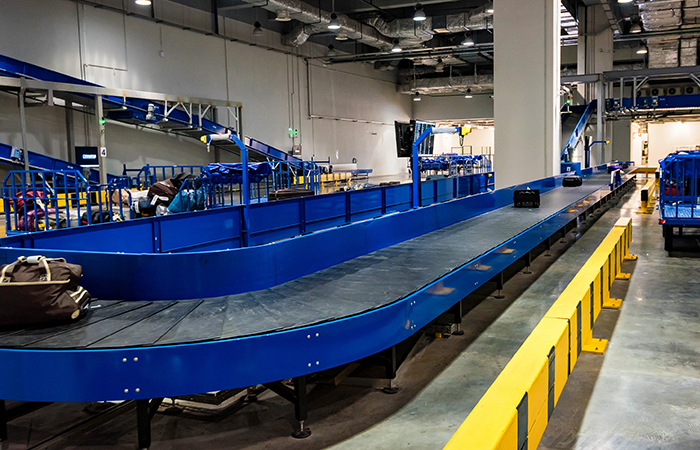 Benefits of airline baggage tracking with RFID
Delta Air Lines was the first U.S. carrier to deploy RAIN RFID baggage tracking, earning accolades in 2018 as one of the top 10 most innovative travel companies. The airline's mobile app, with its baggage tracking and notifications, has been a hit with travelers. But improving the customer experience is just part of RAIN RFID's potential for air transport.
Mishandled and lost baggage is more than just a passenger inconvenience. In 2018, according to SITA, 24.8 million bags were lost, delayed, or stolen worldwide. Locating, returning, and processing claims for these mishandled bags cost the air transport industry $2.4 billion in 2018.
The IATA projects RFID baggage tracking will save the airline industry $5 billion by 2026. So far, initial deployments have reduced mishandled baggage by 25% and have driven faster loading and unloading of baggage, which leads to less delayed baggage and fewer delayed flights. At Delta, RAIN RFID baggage tracking has improved the baggage loading rate by 10%, reduced mishandling rates by 13%, and reduced the bag-handling injury rate by 21%.
"Innovation isn't about finding ways to use the latest gadget or shiny object," said Gil West, Delta's chief operating officer, "it's about working with our operational teams to find scalable solutions that solve actual issues in our operation for maximum customer and employee benefit – even if the technology we use, like RFID, has been around for a while."
---
Article tagged as:
---
---
Tuesday, October 26, 2021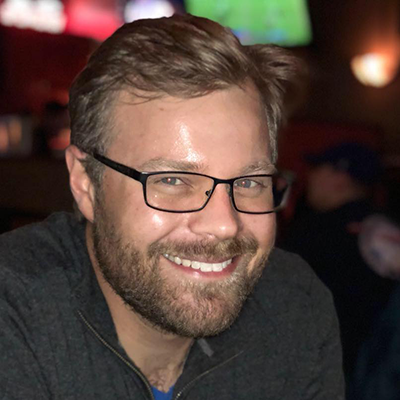 Nick Eaton
Editorial & Content Manager
As editorial and content manager, Nick Eaton directs content strategy and messaging for the Impinj global marketing team, also drawing on 15 years of experience in print and online journalism.
Sign Up for the latest news
Looking for more content? We've got you covered
Learn more about Impinj and RAIN RFID in our resource library
Visit Library
Get the latest industry happenings delivered straight to your inbox