Safer, Smarter Healthcare with Real-Time Location Systems
Learn how real-time location systems make healthcare safer and more efficient, based on our findings from the Gartner Hype Cycle for Healthcare Providers 2020
2020 has illustrated the need for digital transformation in healthcare. The Gartner Report Hype Cycle for Healthcare Providers, 2020 outlines trends that are dominating digital transformation and influencing the current landscape of the healthcare industry. Here are their findings:
"COVID-19 is disrupting healthcare in an unprecedented manner. The pandemic accelerated the adoption of virtual care and forced providers to rapidly scale capabilities such as contact tracing. COVID-19 also put a laser focus on providers' needs for better data and analytics and improved collaboration and care coordination across the ecosystem."

Healthcare providers are adopting Artificial Intelligence (AI) and other automation capabilities. AI and automation can create competitive advantage and add value for cost optimization and improvements in clinical safety, experience, and other outcomes. ​

​The desire for further digital transformation by Healthcare Delivery Organizations (HDOs) is evident through the increasing adoption of digital twins and real-time health system capabilities.​
Gartner described real-time location systems in the early mainstream maturity in the hype cycle, with Impinj listed as a sample vendor. Impinj partners build RTLS and other healthcare solutions on the Impinj platform. Solutions built by Impinj partners are designed to work within a healthcare setting, supporting compliance with procedures and regulations, and making the work of caring for patients easier.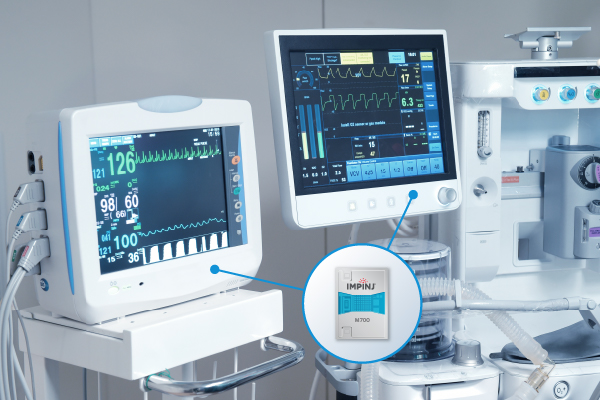 What Are Real Time Location Systems?
Real-time location systems (RTLS) in healthcare are used to track the location and movement of assets, supplies, samples, or even people within the confines of the healthcare provider campus or facility. RTLS can track:
High-value medical assets such as intravenous infusion pumps, wheelchairs, pulse oximeters, specialized surgery tables and equipment, and computers on wheels
Clinicians, care team members, and patients
Trackable specimens such as tissue samples and blood
​Medications, including expiration dates
How RTLS Works
Typically, RTLS communicate wirelessly over radio frequencies, such as RAIN RFID. Readers at key transition points, such as check-ins or entrances, read data from wireless tags that are worn by people or attached to an asset. This data lets healthcare delivery organizations (HDOs) know when items (or even people) are checked out, and which reader last scanned their location.
RAIN RFID Solutions Help Improve Care, Reduce Costs, and Increase Efficiency
Impinj partners have a long history of providing asset tracking, automation, and RTLS in the healthcare industry. The Impinj platform has helped
Impinj tag chips are particularly well-suited for use in tracking assets within hospitals and medical environments: able to withstand the temperatures and chemicals necessary for medical-grade sterilization, their low-profile ensures even the smallest of medical tools can be tracked without affecting the utility.
The Impinj xArray gateway is also relevant for healthcare environments: installed overhead, this gateway can track item movement along two axes and determine the x-y location of items within five feet (1.5 meters). This enables real-time tracking of valuable hospital assets and negates the need for safety stock.
The Future of Real Time Location Services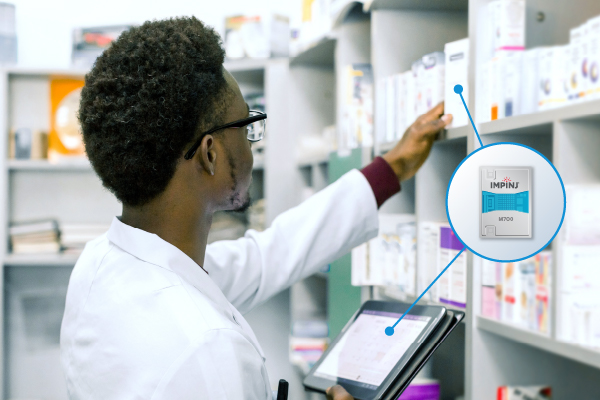 In early 2020, Boston Consulting Group and Ireland's National Institute for Bioprocessing Research and Training (NIBRT) launched a collaborative innovation center focusing on biopharma 4.0 and the future of medical care. Impinj RAIN RFID technology was integrated into multiple levels of the lab-of-the-future to apply quality control enforcement processes.
COVID-19 provided an early preview and acceleration of the digital transformations to come in healthcare. As the Gartner Report Hype Cycle for Healthcare Providers, 2020 states, "Over the next three years, the evolution of healthcare will be characterized by a reengineering of clinical care and operations around digital health and pervasive real-time use of data and advanced analytics. Healthcare will learn how to optimize digital capabilities implemented over the past decade to effectively resolve many of the issues associated with physician burnout and create cost optimization efficiencies." In 34 innovation profiles covering specific applications, this report outlines emerging and existing technology of interest to HDOs. For more details—and those 34 innovation profiles—you can download your copy of the full report.
---
Article tagged as:
---
---
Thursday, October 15, 2020
Sign Up for the latest news
Looking for more content? We've got you covered
Learn more about Impinj and RAIN RFID in our resource library
Visit Library
Get the latest industry happenings delivered straight to your inbox