Four Ways RAIN RFID Enhances Medical IoT Solutions
An IoMT solution built on RAIN RFID helps healthcare organizations deliver higher quality patient care at a lower cost.
How can healthcare organizations manage rising costs and higher patient volumes without sacrificing the quality of medical care? That's been one of the chief concerns facing healthcare organizations for many years. In a growing trend, medical facilities have turned to the Internet of Things (IoT) to address these challenges. According to a recent report, nearly 60% of healthcare organizations are currently planning or implementing an Internet-of-Medical-Things (IoMT) solution.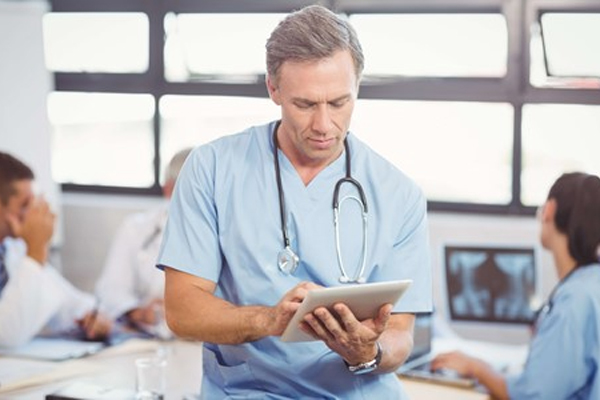 An IoMT solution connects an ecosystem of sensors to exchange data regarding the location and status of medicine, medical devices, and other items critical to providing quality patient care.
While IoMT may be a popular remedy, it's not a silver bullet: it's only as good as the data behind it. As medical facilities explore the potential of IoMT, they discover the critical role RAIN RFID technology plays in managing assets, consumables, and people. Below are some of the ways RAIN RFID technology works with an IoMT solution to improve operations, and ultimately outcomes.
RAIN RFID automates inventory management
Historically, healthcare organizations relied on a manual process to check inventory levels on medicines and medical equipment, noting by hand which items needed to be replenished, and which medicines were approaching their expiry date.
But human error is inevitable. Counts aren't always accurate. Knowing the risks of running low, hospital managers often compensate by overstocking. Given the high cost of these items, correcting the situation by over-ordering isn't a reasonable alternative.
What if each item could be managed automatically? By incorporating RAIN RFID into an IoMT solution, every item is given a digital life. Inventory can be managed down to a single item, and updated in real-time, not just whenever hospital staff has the time to do a manual count.
RAIN RFID improves asset management and increases efficiencies
Some of the most expensive medical equipment is mobile. Using RAIN RFID, healthcare providers are able to identify, track and authenticate medical devices and surgical equipment. This makes it easier to ensure that items are available when and where they're needed.
By providing the data needed to replenish items only when necessary, an IoMT solution can improve efficiency. The time saved can have a real impact on patient care. Seconds count when lives are at stake.
RAIN RFID reduces opportunities for theft
Loss prevention is another key concern of hospital administrators. As pharmaceuticals and costly medical equipment moves from a central receiving area, to the hundreds of individual rooms where they're needed, accurately tracking chain of custody is challenging. Valuable assets are most vulnerable when they are in transit between secure locations.
With a RAIN RFID solution, notifications can be sent to relevant staff whenever an item passes through a critical checkpoint. Tracking the movement of pharmaceuticals and expensive equipment makes it easier to enforce security protocols. Orders are processed faster. The information collected on location of items can be useful in analyzing workflow and streamlining processes. And medical facilities can comply with the myriad of regulations regarding controlled medications.
RAIN RFID improves patient outcomes–while reducing costs
When inventory levels are optimized and hospital administrators have real-time visibility into both the location and movement of items, staff can spend less time counting bandages or looking for equipment, and more time caring for patients.
RAIN RFID solutions have helped many leading healthcare organizations to deliver higher quality patient care at a lower cost.
See how RAIN RFID works for yourself at HIMSS18 by booking a meeting with Impinj today.
---
Article tagged as:
---
---
Thursday, February 8, 2018

Wendy Werblin
Former Impinj Director of Industry Solutions
Sign Up for the latest news
Looking for more content? We've got you covered
Learn more about Impinj and RAIN RFID in our resource library
Visit Library
Get the latest industry happenings delivered straight to your inbox