Faurecia Creates the Factory of the Future with Impinj
Adopting Industry 4.0 principles, automotive manufacturer Faurecia uses RAIN RFID to transform its factory operations through real-time asset-tracking.
With operations in 37 countries and 115,000 employees worldwide, Faurecia is the industry leader in the global automotive industry. The France-based group uses cutting-edge platforms in their vehicle interiors to optimize customer experiences, prioritizing wellness and safety, integrating smart surfaces, and pursuing zero-emission vehicle mobility.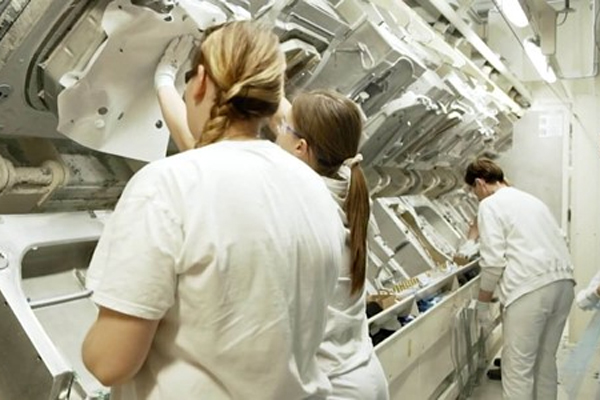 Always looking forward, in 2015, Faurecia began leading the charge toward transforming the automotive industry, making plans to adapt its factory operations to match Industry 4.0 principles. With a solution built on the Impinj platform, Faurecia implemented a RAIN RFID program in their factories around the world.
RAIN RFID-powered asset tracking
Faurecia chose the Impinj platform to optimize factory operations by providing real-time asset tracking and inventory monitoring. An Impinj Monza R6 tag is attached to each Faurecia asset, and Impinj xSpan readers are installed at key factory transition points, like dock doors and manufacturing stations.
The xSpan readers note each asset's location and direction and pass the data on to Impinj ItemSense software. The software then processes the data and forwards key information to factory field workers, allowing them to check inventory levels and make sure the right parts are in the right place in the supply chain.
RAIN RFID solution increases efficiency, optimizing production and shipping
Faurecia's RAIN RFID solution has streamlined its manufacturing operations. With less manual and more automated scanning, the new system reduces errors in shipping, transferring and receiving, in turn reducing workers' manual task load. With fewer errors to correct and greater visibility of factory processes, workers are better equipped to make informed decisions to optimize those processes.
The solution's real-time inventory monitoring helps field workers know instantly when and how often parts need to be restocked, reducing waste and increasing efficiency. Fewer incorrect or lost orders save money and increase customer satisfaction, helping Faurecia continue to set a high standard for the automotive industry.
Read more about Faurecia's RAIN RFID solution.
---
Article tagged as:
---
---
Friday, April 26, 2019
Sign Up for the latest news
Looking for more content? We've got you covered
Learn more about Impinj and RAIN RFID in our resource library
Visit Library
Get the latest industry happenings delivered straight to your inbox