Explore How Retailers Can Implement an IoT Strategy Using RFID
In part one of this two-part series, explore how retailers can implement an IoT strategy using RFID to create smarter physical stores.
In an omnichannel world, it's important for retailers to build compelling experiences that cross both physical and digital spaces. While shopping online is easier than going into a physical store, shoppers haven't abandoned brick and mortar. To keep shoppers engaged, retailers are transforming their stores into connected smart store experiences to close the gap between online and in-person shopping.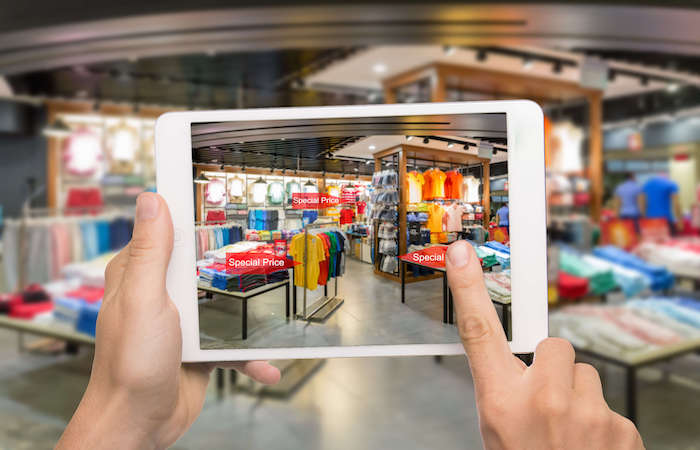 To learn more about exactly what it takes to transform brick and mortar stores into smart shopping experiences, we sat down with industry experts to discuss what exactly is happening in retail. In this two-part series, we will take a look at how retailers can adopt an IoT strategy using RFID to create smarter stores. We first spoke with Kees Jacobs, vice president consumer products and retail, Capgemini to discuss how they enabled RFID in their brick and mortar stores.
Kees, the retail industry has been a hot topic in recent years. How do you see the industry transforming in the next few years?
Today, traditional brick-and-mortar retail is under attack from online and from the behaviors of millennials. Everything is going digital with the integration of connected IoT use cases and new disruptive technologies like AR, AI, VR, and blockchain. These technologies tie the customer not only to the product but to store employees and the physical store. This further evolution towards digital experiences now includes frictionless checkouts, and more immersive experiences for shoppers.
According to Capgemini's Digital Shopper Relevancy Report (1) , 72% of retail customers say that the physical retail store is important or very important, 50% of retailers believe that optimizing the store is very important for their organization's success, and there is a 20% higher rate of conversion for shoppers who use digital devices while shopping.

By enabling omnichannel experiences, customer journeys are becoming more personalized and more interactive. Through applications such as personal voice assistants, smart kiosks, interactive touch screens, and solutions such as smart fitting rooms, retailers are beginning to optimize the union of online and physical shopping experiences. Additionally, with the enablement of RFID in inventory tracking, all of these applications will be tied into back-end operations and the supply chain to increase efficiencies.
So, what is a Smart Digital Store?
For a store to be smart, digital, and connected, it needs to integrate the customer with the store employees, the product portfolio, the physical store, online data, and the supply chain – it needs to combine the best of online and in-store.
A smart digital store must provide the journey that goes beyond what customers have become accustomed to shopping online or in-store. Retailers must also adapt to different customer preferences and behaviors. The smart digital store will provide a host of new capabilities and services. Not as discrete gadgets or one-off point solutions, but as integrated systems driving new and measurable business value.
No complete overhaul of retail IT systems is necessary to start reaping benefits right away. The principles that underpin the smart digital store ensure security, privacy, and scalability, and the standard architecture allows for data exchanges with existing IT systems and infrastructure.
How does a Smart Digital Store help retailers thrive in today's hypercompetitive environment?
The smart digital store creates memorable store experiences for shoppers and gives opportunity to employees to better serve their customers. This increases customer satisfaction, store traffic, conversion rates, and influences customers to make quicker buying decisions. In addition to customer facing improvements, smart digital store capabilities ultimately improve supply chain efficiencies and decrease delivery turnaround time.
We also spoke with Ashley Burkle, retail industry leader, from Impinj.
Ashley, what role does RFID play in a Smart Digital Store?
RFID is one of the most valuable and relevant IoT technologies retailers can adopt today, giving retailers visibility and accuracy to their most important and largest investment – inventory.
Since everything in retail revolves around inventory, retailers must have confidence about the inventory they have and where it is located. But, it is more than just that. When you attach a RFID tag to store inventory each item becomes a smart device that communicates to the smart digital store the item's identity, location and authenticity. This stream of data from connected items allows a retailer to relate supply with demand and increasing revenue and profits while decreasing markdowns and cancelled orders. Simply put, inventory control can be the key to widespread improvements in operations and customer satisfaction.
What are other ways RFID is used in retail?
There are many ways to use RFID in retail:
One is to improve store operations. Retailers can use RFID to collect data and generate analytics about inventory and customer interaction. For instance, some stores have used RFID to influence their merchandising decisions through tracking where customers carry certain items throughout the sales floor. Understanding which items shoppers consider and discard can give retailers useful insights into their product mix.
Another way retailers use RFID is to engage customers with interactive digital displays. Customers are now more accustomed to online shopping experiences that are immediate and tailored to their preferences. With the use of their smartphones they can research, compare, and purchase products without even stepping into a store, so when they enter a brick and mortar store they expect the same level of convenience. By enabling RFID in stores, retailers can seamlessly optimize the combination of online and physical shopping experiences by connecting shoppers to the merchandise they seek.
Not sure what "smartphone app connectivity" means but to me it sounds like you're inferring that you can use your phone to identify items via RFID.
One more example is in the use of RFID at checkout. Shoppers expect checkout to be easy. They are used to one-click, online checkout. As an improvement over individually scanning barcodes, RFID checkouts read all of the items in an entire basket simultaneously--just like online. It's quick, reliable and so easy that shoppers use it intuitively.
Check back next week for Part 2: the continued conversation about how retailers can implement an IoT strategy using RFID with Capgemini Retail VP Kees Jacobs and Ashley Burkle, retail industry leader from Impinj. If you have any questions or comments until then, reach out to me at [email protected]
---
Article tagged as:
---
---
Friday, December 7, 2018
Sign Up for the latest news
Looking for more content? We've got you covered
Learn more about Impinj and RAIN RFID in our resource library
Visit Library
Get the latest industry happenings delivered straight to your inbox