Decathlon Autonomously Maintains Inventory with RAIN RFID Robot
In their first US store, Decathlon uses an autonomous robot with a RAIN RFID reader to maintain inventory throughout their warehouse-sized sales floor.
Decathlon has arrived in America. Heralded as the Ikea of outdoor equipment, Decathlon has 1,444 stores throughout almost 50 countries. With everything from a $3 backpack to higher end tents and bicycles, their position as an affordable, high-quality sporting goods store is cemented across the world. However, the sports equipment behemoth only recently crossed into the United States.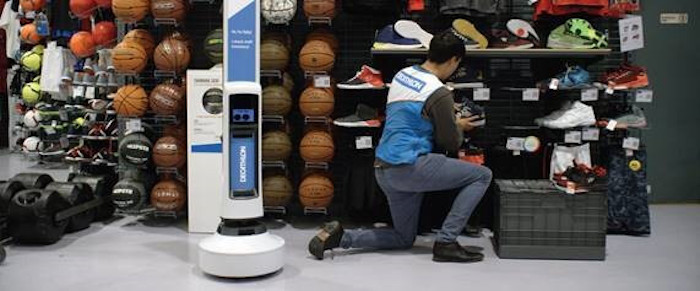 In 2017, Decathlon opened their first US Lab Store in San Francisco and will be opening their first full-scale store in April 2019 in Emeryville, California. The 47,000 square foot flagship store will feature more than 10,000 products for over 80 different sports, with more available online.
A new retail store with a new robot solution
Due to the vast amount of items circulating on the sales floor, Decathlon needs to maintain an accurate inventory count as customers move things around the store. They chose Simbe Robotics' autonomous robot Tally, that has a RAIN RFID reader inside, to solve this challenge. As Tally moves throughout the store, it continually monitors inventory counts and returns actionable data to store associates.
Decathlon is no stranger to RAIN RFID technology. Decathlon installs a RAIN RFID tag with each item they sell. An Impinj Indy R2000 based reader outfitted on the Tally robot scans hundreds of tagged items per second as the robot moves about the store. Once Tally collects this inventory data, the robot alerts sales associates about misplaced or out-of-stock items.
"Impinj is the pioneer and market leader when it comes to RAIN RFID solutions. Their Indy R2000 performed remarkably well in our tests, which gave us the confidence that it would work seamlessly with Tally's Decathlon deployment, which leverages Tally's RFID capabilities. " – Durgesh Tiwari, vice president of research and development, hardware at Simbe.
RAIN RFID solution prevents misplaced items
Not only are sales associates alerted when there are misplaced items, but inventory managers are also able to better understand their customers through data collected about how items move on the sales floor. With these valuable insights, managers can make informed decisions about inventory and maximize store profitability.
In addition to providing valuable inventory data, the Tally robot has given sales associates more time to interact with customers. Rather than spending hours or even days counting inventory, Tally has allowed associates to remain on the sales floor serving the most critical part of any business: customers.
Impinj is the pioneer and market leader when it comes to RAIN RFID solutions. Their Indy R2000 performed remarkably well in our tests, which gave us the confidence that it would work seamlessly with Tally's Decathlon deployment, which leverages Tally's RFID capabilities.

Durgesh Tiwari Vice President of Research and Development, Hardware, Simbe