CAEN RFID with Impinj Expands Its Family of Single and Multi-Port Lepton Modules
CAEN RFID adds single and multi-port options to its Lepton line of reader modules, powered by Impinj E310 and E710 reader chips, bringing flexibility to implementation into RAIN RFID reader devices.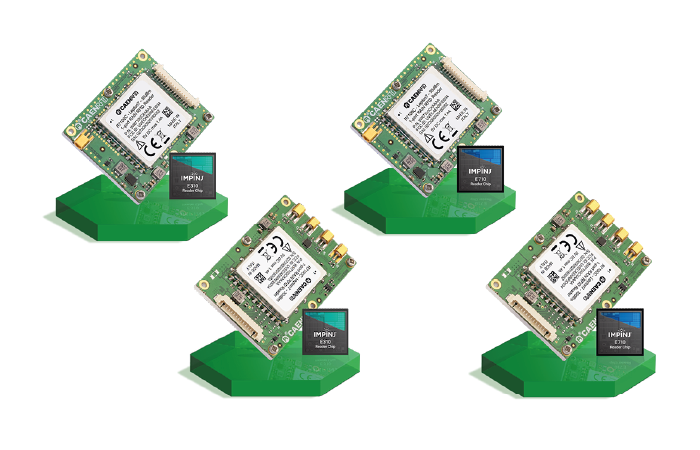 CAEN RFID is expanding its Lepton line of modules in an exciting new direction. In addition to the popular Lepton3 and Lepton7 modules, CAEN has added four new options, a one-port version, the Lepton3x1 and Lepton7x1 as well as a four-port version in the Lepton3x4 and Lepton7x4. These modules offer the same high performance as the earlier Lepton modules with the added functionality of multi-port design. These additional antenna ports will offer more flexibility in their implementation, and with the new data and antenna connectors, there is no need for soldering to integrate these modules into their devices—great news for those who prefer manual integration to SMD mounting.
Both the Lepton7x1 and Lepton7x4 are powered by the Impinj E710 RAIN RFID reader chip, the best-performing chip on the market today for realizing high-performance modules. The E710 enables faster reading speeds for top performance in dense tag and dense reader environments. The Lepton3x1 and Lepton3x4 modules make use of the Impinj E310 RAIN RFID reader chip, one of the best performing chips in its price range.
| | | |
| --- | --- | --- |
| | Lepton7x1/Lepton7x4 | Lepton3x1/Lepton3x4 |
| Antennae ports: | 1/4 | 1/4 |
| Chip: | Impinj E710 | Impinj E310 |
| Output power: | Up to 30 dBm (1 W) | Up to 25 dBm (316 mW) |
| Compliance: | RAIN RFID (UHF EPC Class1 Gen2, ISO 18000-63) compliant | RAIN RFID (UHF EPC Class1 Gen2, ISO 18000-63) compliant |
| Power supply voltage range: | 3.2 ÷ 5.25 V DC | 3.2 ÷ 5.25 V DC |
| Programmable output power range: | From 10 dBm to 30 dBm; enables tag detection at more than 5 m | From 10 dBm to 25 dBm; enables tag detection at more than 2 m |
| Regulatory compliance: | European and U.S. | European and U.S. |

These low power consumption modules are specifically designed to be used in battery-powered devices. Their super-compact size makes them ideal for use in smaller-scale form factor devices, such as industrial handheld devices, multiregional label printers, point of sale readers, and smartphone accessories.
To hear how CAEN RFID and Impinj thought leaders envision the role of RAIN RFID in the transformation of businesses and consumer experiences, check out this webinar presentation.
---
Article tagged as:
---
---
Monday, September 19, 2022
Sign Up for the latest news
Looking for more content? We've got you covered
Learn more about Impinj and RAIN RFID in our resource library
Visit Library
Get the latest industry happenings delivered straight to your inbox