Bluebird Targets User Comfort with New RFR901 Reader
Bluebird designed its new RAIN RFID reader for user comfort. Powered by an Impinj reader chip, the Bluebird RFR901 rises above the rest in speed, range, and adaptability.
Lightweight in hand, heavyweight in power and versatility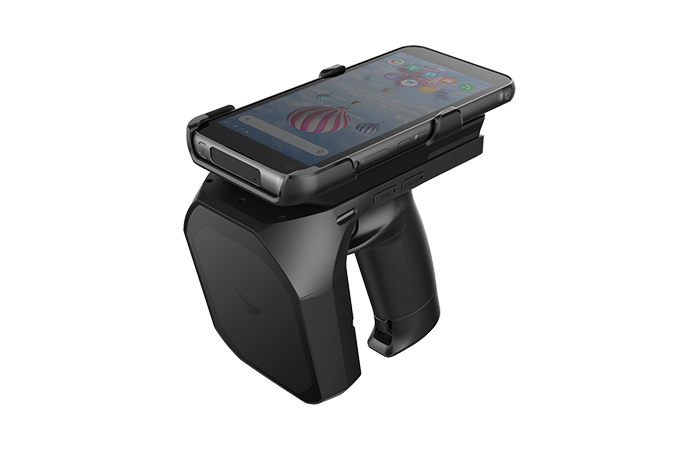 For some people whose jobs require them to use a handheld device, wrist strain and fatigue are a constant presence. Workers in retail, warehousing, and shipping and receiving can suffer stress injuries as a result of repetitive work with handheld devices.
Bluebird conducted its own research into the issue and recognized a need for a lightweight, easy-to-use handheld RAIN RFID reader. The Impinj gold-level partner designed its newest reader to help alleviate physical concerns, reducing the weight of the device and focusing on ergonomic balance.
The new Bluebird RFR901 handheld reader, powered by the Impinj E710 RAIN RFID reader chip, was designed with many improvements in mind. The RFR901:
reads RAIN RFID tags 30% faster
boasts a 40% longer reading range
prevents errors when reading multiple tags
features a "finding mode" that allows the user to search for specific items
sports a trigger for quickly switching between RAIN RFID reader and barcode scanner
Designed with workers in mind
Bluebird made these improvements so workers can save time and use less effort. With these features centered around ergonomics and efficiency, the RFR901 reader has a lot to offer businesses.
Adoption costs are reduced, since the RFR901 mounts to other devices and can connect to any mobile device via Bluetooth. Pairing is easy, without the need to access settings, search for nearby devices, or enter PINs. By minimizing the time workers spend reading tags, the RFR901 reduces wasted working hours and boosts efficiency.
The handheld reader is also set up for seamless deployment, management, and updating. And because it supports applications built on Android, Microsoft, and Xamarin platforms, the RFR901 can be easily integrated with existing infrastructure and services.
A better customer experience
The Bluebird RFR901 enables businesses to offer the kinds of customer interactions that modern shoppers demand and expect.
A customer who wants a specific item can get it in hand much more quickly when employees can find it instantly using the reader's finding mode. The real-time inventory management possible with the RFR901 allows retailers to take quick action to meet customers' needs, leading to better, more satisfying customer interactions.
Check out the new Bluebird RFR901 RAIN RFID reader, and learn more about how RAIN RFID and the Impinj platform can benefit retail, supply chain and logistics, and other industries.
---
Article tagged as:
---
---
Friday, June 24, 2022
Sign Up for the latest news
Looking for more content? We've got you covered
Learn more about Impinj and RAIN RFID in our resource library
Visit Library
Get the latest industry happenings delivered straight to your inbox