Impinj Shares 2022 Corporate Citizenship Statement
Our corporate citizenship statement outlines our commitments to people and culture, environment, and governance as we endeavor to make the world a better place.
I'm pleased to announce that Impinj has released a new Corporate Citizenship statement on investor.impinj.com. Our Corporate Citizenship statement outlines what we believe in and how we conduct ourselves and our business.
We want to make the world a better place through our products and by how we operate as an organization. We are building our vision and company on an unwavering commitment to our principles, which guide us in good times and bad. We believe our corporate success has, and always will, stem from the culture we built and continue building on those principles.
In the Corporate Citizenship statement, you will find information about our commitments to:
People and Culture: We believe that respecting and protecting the rights and dignity of all people elevates us. That fostering diversity and inclusion strengthens us. And that empowerment, collaboration, and accountability are the keys to our success. This section of the statement highlights our diversity, equity, and inclusion (DEI) initiatives and our policies for nondiscrimination, wages and benefits, health and safety, and emergency preparedness.
Environment: We believe environmental stewardship is imperative. The Impinj platform can reduce waste and increase sustainability for trillions of everyday items by giving businesses and individuals easy access to information that can reduce an item's environmental impact at every stage of its life. Impinj is committed to working closely with our partners and enterprise end users to reduce both their and our environmental impact. This section of the Corporate Citizenship statement highlights our work with enterprises, waste reduction programs, and subcontractors to prohibit hazardous substances and conflict minerals.
Governance: We despise corruption of all forms. Our board of directors, leadership team, and employees commit to perform all company and personal business honestly, ethically, and lawfully. We do what is right because we know no other way to be true to ourselves, our partners, our customers, and our shareholders. This section provides more information about our code of business conduct and insider trading, whistleblower, and anticorruption policies.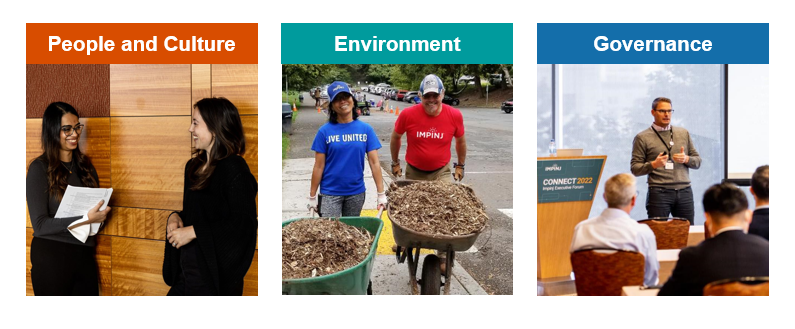 In 2022, Impinj focused on strengthening the foundation of our corporate citizenship. During the year, we introduced:
Impinj Cares, our global corporate giving program that promotes and supports corporate and Impinjineer-led philanthropic activities, including financial contributions and volunteering. All Impinj employees receive 16 hours of paid time off annually to volunteer. We are inspired by wide-ranging grassroots activities spearheaded by Impinjineers. In 2022, groups built tiny homes to help end homelessness, participated in the Seattle Run & Walk-with-Pride fundraising event, raised funds to help fight hunger and support youth in foster care, donated more than $200,000 for humanitarian aid in Ukraine, and so much more.
Culture Connections sessions every month to strengthen cross-company relationships and trust. A member of our senior leadership facilitates each session, with participants from each department across the global organization. These conversations provide opportunities to make personal connections, encourage storytelling, and promote inclusion, all of which are important as we foster a culture free from bias and discrimination.
Our second-annual Summer of Diversity series, which included women board member guest speakers who shared their journeys and discussed authenticity, resolve, and taking action. Another session promoted grassroots, employee-led DEI initiatives, including an Impinj book club that discusses privilege, power, and racism; a small-group discussion series that leverages personal storytelling as a means of building empathy; and a guide that establishes DEI best practices for marketing.
Travel reimbursement for employees and dependents seeking essential medical care not available in reasonable proximity to where they live.
A new Supplier Code of Conduct that adheres to the Responsible Business Alliance Code of Conduct.
Our first Scope 1 and Scope 2 greenhouse gas emissions inventory utilizing the Greenhouse Gas Protocol. We are committed to tracking and reporting our emissions annually. Our greenhouse gas inventory includes three years of reported data that will enable us to monitor changes in our emissions over time and take steps to reduce our environmental footprint.
We made good progress in 2022, and in that progress, we can see how much more we will accomplish. Looking forward, we will continue our efforts to improve our products, our culture, and drive sustainability, knowing we can always do better.
>> Download the Impinj 2022 Corporate Citizenship statement
---
Article tagged as:
---
---
Friday, December 9, 2022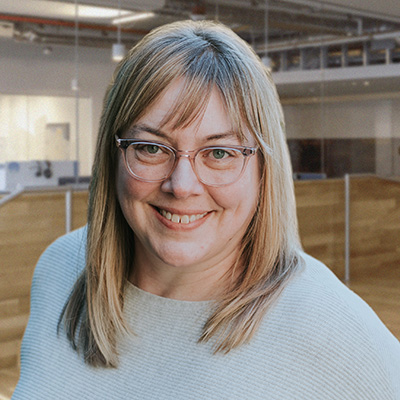 Jill West
Vice President, Strategic Communications
Jill West leads Impinj IoT technology adoption marketing initiatives across numerous markets including retail, healthcare, and supply chain and logistics.
Sign Up for the latest news
Looking for more content? We've got you covered
Learn more about Impinj and RAIN RFID in our resource library
Visit Library
Get the latest industry happenings delivered straight to your inbox