Attending HIMSS 2018? Here's why you need to visit Impinj booth 643
Learn why healthcare providers looking to cut costs and improve care are meeting with Impinj at HIMSS 2018.
Leading healthcare organizations want to streamline inventory management, improve the patient experience, and reduce operational costs. At HIMSS 2018, the Impinj team is excited to show you how our RAIN RFID platform helps you do just that. Here are three great reasons to visit us in booth 643.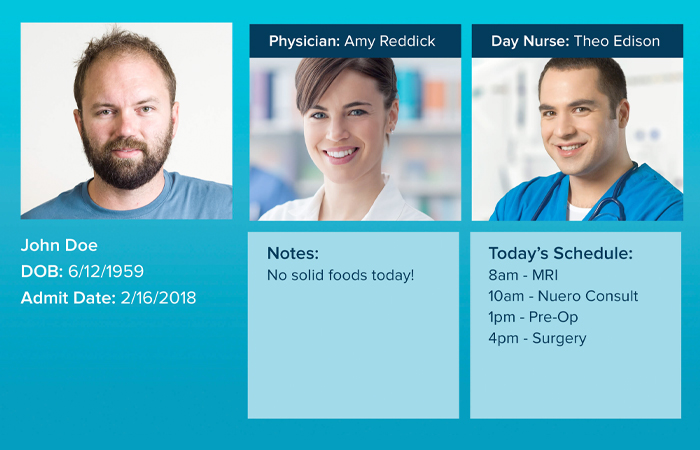 Learn new ways to streamline inventory management
To do their job effectively, your staff needs accurate, real-time visibility into the location and availability of supplies—not just in one location, but across multiple rooms and facilities. With RAIN RFID, staff receive an automatic notification when supplies need to be replenished or when the lab receives a sample. It also lets them know where expensive assets are located so they don't go missing. In our inventory and supply management demos, you can see how inventory levels and locations are updated in real-time to help streamline operational processes, prevent loss, and more.
See how you can improve patient experience—without inflating costs
For patients, time in a healthcare facility is stressful. Delivering a patient's data to hospital rooms can help them feel comfortable and cared for in your facilities.
Upon entry to our Smart Hospital Room demo, personalized information is displayed, putting patients at ease, and saving staff valuable time.
Increase visibility into patient discharge status and room occupancy
Our RAIN RFID solutions also provide real-time visibility into patient workflow. In our booth, we'll show you how patients identified as "ready for discharge" via RAIN RFID enabled wristbands, can pass through a "discharge zone" to automatically alert staff to their exit. This lets environmental services staff know when a patient has left the facility, allowing them to clean the room and get it ready for the next patient faster.
---
Article tagged as:
---
---
Wednesday, February 21, 2018

Wendy Werblin
Former Impinj Director of Industry Solutions
Sign Up for the latest news
Looking for more content? We've got you covered
Learn more about Impinj and RAIN RFID in our resource library
Visit Library
Get the latest industry happenings delivered straight to your inbox