At NRF 2023, Impinj Spotlights RAIN RFID Innovations in Retail
Impinj demonstrated new tech and showed off partner RAIN RFID products that help retailers digitally transform and face the challenges of today and tomorrow.
Who wouldn't want to visit New York City in January?
It was terrific to be back at the annual NRF conference earlier this month. And while it was chilly on the city streets, it was lovely to experience the warmth of a community coming back together after a tough few years — to see familiar faces and old friends, connect with new folks, and visit some of my favorite New York spots.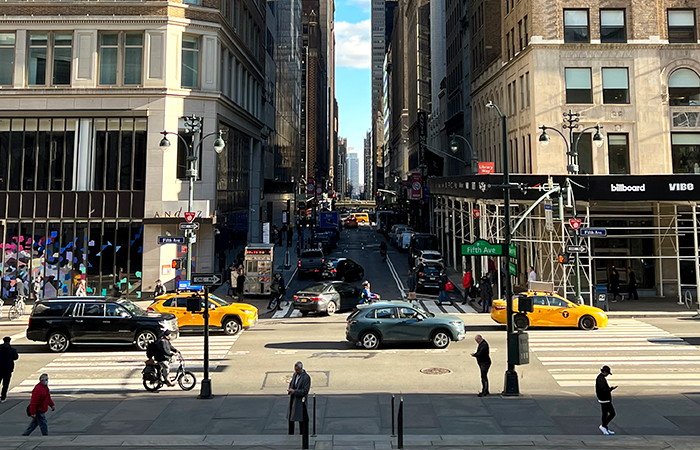 "NRF 2023: Retail's Big Show," as always, was an important event for Impinj to connect with existing and potential partners, and to hear from retailers what they need and what they want as they face evolving challenges. As I spoke with analysts, retailers, and partners it was clear that RAIN RFID is widely accepted as the best approach for real-time inventory visibility, and we know 95% of retailers see RAIN RFID as a key component of their digital transformation.
Yet there's much more retailers can do with the Impinj platform and the products our partners build on it. And that's what I find especially exciting: learning about different innovations and strategies, and how retailers are seeing new value as they extend their RAIN investments into new uses across their organizations.
Showing the latest from Impinj
The Impinj booth felt like a gathering place — a destination for people interested in learning how Impinj continues to innovate solutions for retail. At our booth, we spotlighted advancements in Impinj technology, and how RAIN RFID is used to improve both customer experience and business operations at the same time.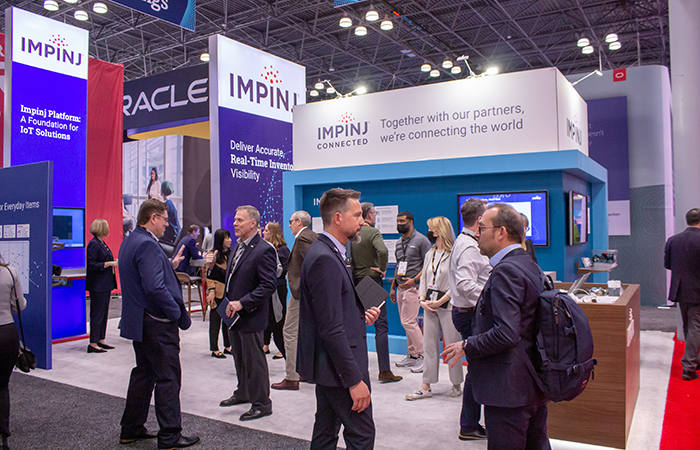 There's something about showing off Impinj technology in person, with real people at a real event, that fills me with such joy and pride. The Impinj team demonstrated an integrated automated checkout, loss prevention, and returns management system using Impinj Protected Mode, an innovative capability in Impinj M700 series tag chips. With Impinj Protected Mode, a RAIN RFID system can determine when and where a tag will respond to a reader request for data. This capability helps enterprise systems comply with consumer privacy regulations while maintaining operational efficiency and flexibility.
We also demonstrated the Impinj Authenticity solution engine, which uses cryptographic authentication to verify tagged products as genuine — helping to secure supply chains and prevent counterfeits from reaching consumers. This is a unique approach to brand protection that enables authentication for all types of items at scale, integrated into shipping systems. I enjoyed seeing people's reactions when items were scanned then popped up as authentic or not, showing just how well this breakthrough technology works.
Conversations at this year's NRF were exciting and forward-thinking — looking toward the future and how Impinj is developing technology that helps organizations achieve their goals.
[ Want to read more content like this? Subscribe to the Impinj blog. ]
Promoting our partners' products
While the whole Impinj team and I were proud to share our own exciting advancements in retail, NRF wasn't all about us! Not by a long shot.
Also on display at the Impinj booth were dozens of devices, tags, and inlays developed by Impinj partners featuring the Impinj E family reader chips and Impinj M700 series tag chips. Despite the challenges of the pandemic years, the RAIN RFID ecosystem has been alive and innovating — all of the new partner devices we displayed at NRF were created or launched within just the past year.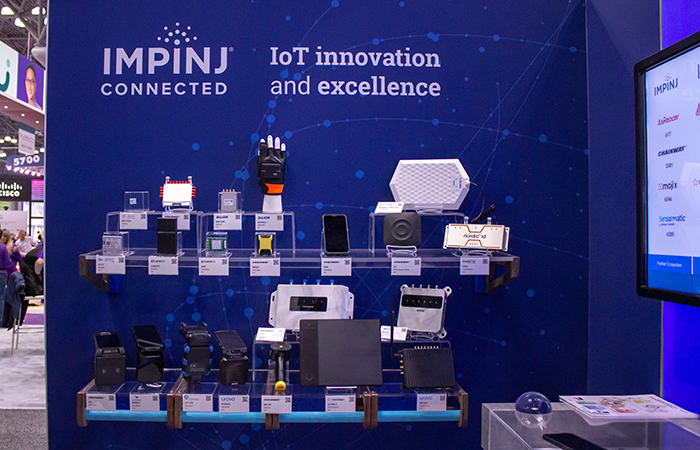 This kind of collaboration with our partners is important, and we feel honored to also represent our partners at NRF. Impinj was proud to share in the debut of iD POS 2, a new point-of-sale solution from Impinj partner Nedap, by showing the device in our booth. Visitors were thrilled to be among the first to see the Impinj-powered device in action.
It also warmed my heart to see other Impinj partners eager to spotlight their Impinj connections. Impinj partner UROVO Technology Co. Ltd., a mobile application solution provider, and Impinj partner Chainway, an RFID product supplier, each displayed the Impinj Connected brand with their products. And I couldn't help but smile when I walked by the booth of Impinj partner Bluebird, an enterprise mobile device manufacturer, and saw Impinj featured in one of their videos.
RAIN RFID in retail: A flourishing relationship
Walking the show floor, this year I encountered more RAIN RFID products and services than I ever had before. For me, it's a sure sign that RAIN RFID is gaining broader acceptance in retail.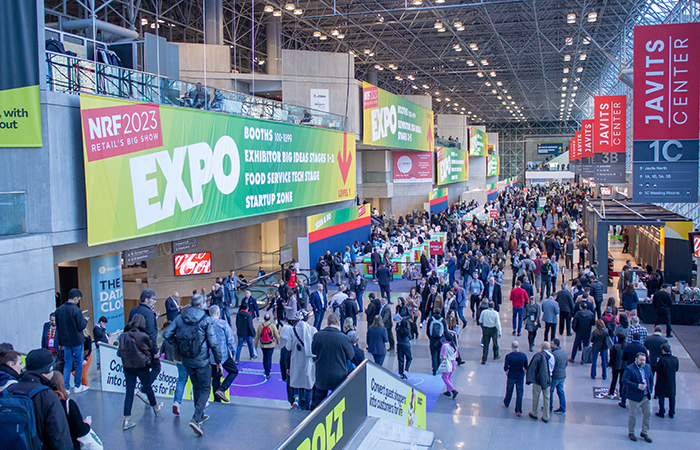 Interest in RAIN RFID has grown beyond the traditional use cases like inventory management and cycle counting — virtually all retailers are looking at RFID for those. Now retailers are exploring additional opportunities to strengthen service and increase efficiencies using RAIN.
It's no secret that those retailers who had already adopted RAIN RFID inventory management weathered the Covid-19 pandemic better than most. Now, retailers who already gain those benefits are extending their existing systems to new applications like self-checkout, loss prevention, and brand protection. And they're looking ahead to how the Impinj platform can help them not just optimize business processes, but also maximize security and improve sustainability.
If you weren't able to swing by the Impinj booth at NRF, on our website you can learn all about RAIN RFID, the Impinj platform, and how RAIN RFID can enable the digital transformation necessary for retailers to gain an edge on the competition.
I hope to see you at NRF 2024! Even if it's another chilly January in New York, you can expect a warm welcome at the Impinj booth.
---
Article tagged as:
---
---
Thursday, January 26, 2023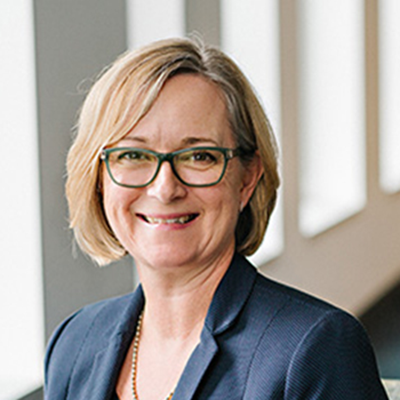 Gaylene Meyer
Impinj Vice President of Global Marketing and Communications
Gaylene Meyer leads a team focused on delivering world-class marketing and communications that engage partners and customers worldwide.
Sign Up for the latest news
Looking for more content? We've got you covered
Learn more about Impinj and RAIN RFID in our resource library
Visit Library
Get the latest industry happenings delivered straight to your inbox