Asset Vue Q+A: RAIN RFID, Asset Management, and Future Technology
How Gold-level Impinj partner Asset Vue manages data center assets and inventory for some of the top companies in the world using RAIN RFID
Impinj has a diverse network of partners around the world who rely on the Impinj platform to build creative, groundbreaking solutions. This includes Asset Vue, a Gold-level Impinj partner with decades of experience in data centers. Their solutions solve the challenge of maintaining and updating asset and inventory information for companies of all sizes across industries— including Fortune 100 companies across multiple continents. We sat down with Asset Vue's founding partner Gary Aron to talk about their Impinj partnership, the future of technology for asset management, and the role AI and automation will be taking in the near future.
Why did you partner with Impinj?
We've been an Impinj partner for six or seven years. We were looking for a technology that enabled multiplexing (a way of sending multiple signals or streams of information over a communications link simultaneously in the form of a single, complex signal), so that we could reduce costs per rack or asset in data centers. Impinj was quick to respond. Impinj technology is the best we have used or seen in the industry. RAIN RFID is a more cost-effective solution and with its flexible capabilities, it was the perfect balance between cost and performance for us.
Tell us about your solutions.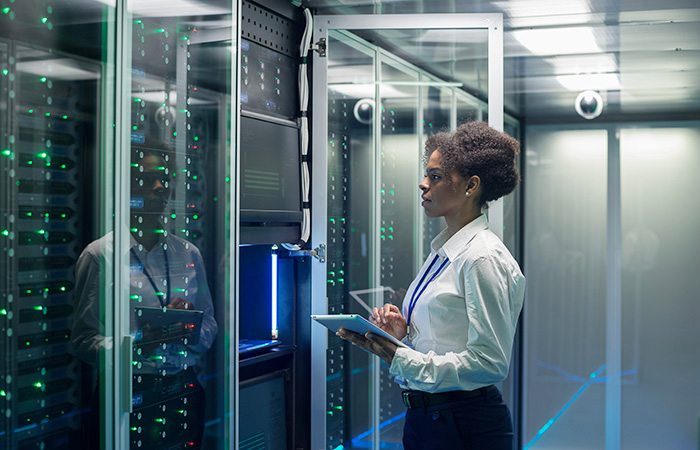 Our solutions, although similar in the technology, vary from customer to customer. Some customers want to know when something has left a room or facility, while others need to know, down to the rack level, where their assets are, while others are using a check-in/check-out process— so we've built our solutions to be both flexible and scalable. Our solutions (Asset Vue Inventory, a real-time asset inventory management system; Asset Vue Mobile, asset tracking from a mobile device; SMART Cabinet, a solution for SSD's and other offline media; Real-Time Rack, a real-time asset tracking system; and Real-Time Room, an asset tracking system for every room) allow users to define the fields that are important to them within the tool.
Our solutions are simple and straightforward. About 95% of our installations are full turnkey solutions, which results in quick and clean implementations. Our applications were designed to be easy to use, and most of our customers are up and running after a 1-hour training session. Our new mobile solution can be downloaded for free and users can download the application and be running in minutes.
Can you describe a deployment or application that you are particularly proud of?
We had a customer with 42 locations in North America, Europe and Asia, who had no asset information at all—and needed to have an audit completed within 12 weeks. We deployed a team of technicians to collect data and tag assets while implementing a RAIN RFID solution to make subsequent audits go quickly. From start to finish this turnkey solution took 7 weeks. That is a bit unusual, but we like a challenge and we were up for the task. The customer was extremely happy with the results and achieved their goals with time to spare.
How does RAIN RFID help your customers drive digital transformation within their organizations?
RAIN RFID technology from Impinj has enabled us to provide a valuable service at reasonable costs. This has enabled our customers to transition from a very manual asset management process that had data integrity issues, to an automated solution that either minimizes or eliminates the need for manual intervention.
What are important things to consider when evaluating if RAIN RFID is right for your business?
If you are interested in automating or streamlining your asset management process, then you should look into RAIN RFID. If you are new to RAIN RFID, you should consider working with a company who has expertise in this area to ensure you match the right combination of tags and readers, since the read range and reliability are directly affected by these components.
What are some of the emerging technologies in asset management today? Are there any pain points along with that growing technology?
The industry is maturing as it relates to automating and controlling asset management. First and foremost, it is important to define the process and make sure that checkpoints and validation steps are implemented.
Real-time tracking with RAIN RFID, especially in metal contained racks and cabinets, is an emerging technology in the industry. We are working to develop new solutions all the time— both with additional hardware options, and with enhancements to our software to address the diverse environment we live in today.
It's always challenging to find the right mixture of time between the things we have going on. In addition to maintaining our mix of clients, we are crossing over into other areas such as First Responders and mobile customers who find the need for solutions like ours in their industry. We learn from them, as they do from us. The partnerships are a special part of what we do because our relationships have been very collaborative, and the results of our efforts have been very positive.
How are companies responding to the disruptions being caused by COVID-19?
Most have prioritized an asset management solution so they have controls around their assets. During the pandemic, some customers were unable to access their facilities where critical equipment was located, so many would now like an automated solution, so that they are less affected when they can't physically get to their equipment. This gap in their asset data can be eliminated by automating the process.
What technologies are helping companies struggling with resiliency, efficiency and visibility during this time?
RAIN RFID is one technology helping companies. When we can detect equipment from the time it is purchased and track it through its lifecycle, that saves time and money, and increases the reliability and timeliness of information. For example, once the receiving process is automated, you no longer need a logistics or receiving person at the loading dock. When the assets move to other areas, such as storage or production, and all the way through decommission of those assets, without ever having to have a human involved—not only does this save time, but the accuracy improves significantly. Most customers these days need to share information between applications, so most of our implementations include this feature to ensure information is consistent across applications.
What does the near future look like for artificial intelligence in regard to asset management for data centers?
We think it is important to leverage AI where we can. For example, when assets are sitting in storage too long, our customers can get a notification and take action to account for the assets sitting in storage, instead of reallocating resources that would often result in reordering more hardware than needed. There is one example of a company we were affiliated with who had millions of dollars of inventory in storage, enough to build out an entire network for a new data center. Had they not had this information, they would have spent a significant amount of money to purchase equipment this company already had in storage.
Many companies went years without performing audits because it was a task that was considered mundane by the technicians who perform the function. At some point, this becomes an issue when there's an event with lost assets or tracking of contracts results in a major issue for a company. With the technology available today, there's no reason not to automate this process. Most warehouses still operate under manual processes with spreadsheets, but many are starting to look at ways to automate where they can and build more intelligence around their asset management.
How have your customers benefited from your solutions using the Impinj platform?
The Asset Vue RAIN RFID solutions are powered by Impinj tag chips, gateways, and readers. Without having the Impinj RAIN RFID components and the support of their technical staff, we would not be where we are today. Impinj is a great partner and a big part of our collective success.
About Asset Vue
Asset Vue, LLC is a Paoli, Pennsylvania-based provider of RFID enabled asset management solutions. With decades of experience as data centers directors, Asset Vue's leadership knows the features asset management departments need; their solutions are built through the lens of "For end users by end users". Their technology and solutions solve the challenge of maintaining asset and inventory information, continually keeping it up to date, and doing so throughout the entire asset lifecycle. You can find out how their solutions fit your needs by contacting them here.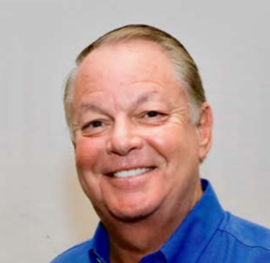 Gary Aron, Founding Partner, Asset Vue
During his career, Gary Aron's teams have designed, built, and managed some of the largest data centers in the world (JPMorgan Chase and then Comcast) and he has a proven track record as one of the leaders in the industry. Mr. Aron is a subject matter expert in data center strategy, design, systems management, incident and problem management, security, training, automation, consolidation, process, and standardization. His teams were instrumental in the maturity of the tools to manage data centers to drive real-time information and automated solutions to new levels while improving uptime in every facility under his leadership. Using this expertise, Gary Aron has co-founded Asset Vue to build innovative asset management tools, processes, and RFID solutions.
---
Article tagged as:
---
---
Tuesday, March 9, 2021
Sign Up for the latest news
Looking for more content? We've got you covered
Learn more about Impinj and RAIN RFID in our resource library
Visit Library
Get the latest industry happenings delivered straight to your inbox